"First I found myself daughter, then granddaughter, and eventually, femme. Anna Camilleri's I Am a Red Dress: Incantations on a Grandmother, a Mother and a Daughter is a poetic meditation on identity, empowerment, personal history, sexuality and abuse. Part mythic storytelling, part personal memoir, I Am a Red Dress has been a mantra, a compass, some days, even a manifesto.
"When I first came out I voraciously read queer authors, and discovered parts of my lexicon in books like Brazen Femme: Queering Femininity, Boys Like Her, and Autobiography of Red, highlighting these foreign yet familiar passages and folding book corners. Though it was I Am A Red Dress that shaped my vision as a writer, and poet. Camilleri's ability to shed light on personal family history, embodiment, sexuality, and the various layers of abuse inspired me to write about femme-identity, trauma, desire, and even travel to Malta.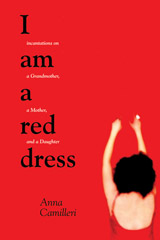 "'My story,' she writes, 'does not exist in isolation–no one's does; our histories are interconnected and overlapping. I've been willing to navigate the deep waters of telling a story that is only partially mine to tell because I believe in the power of narrative, and I believe that imagination is the single most important precursor to change. It is in the story that I find myself.'
"Camilleri and I read together once, several years ago, at The 519 Church Street Community Centre in Toronto, but I was too tongue-tied to say much afterwards, quietly awed. To this day, I still keep a copy of I Am a Red Dress on my bedside table, just in case I need a reminder or a guide as I continue to navigate identity, unfold desire, and change dress colours."
Shannon Webb-Campbell is an award-winning poet, writer and journalist of Indigenous ancestry. Still No Word (Breakwater Books 2015) is her first collection of poems. She is the inaugural winner of Egale Canada's Out in Print Award and was the Canadian Women in Literary Arts 2014 critic-in-residence. Shannon teaches literature at Memorial University of Newfoundland, and lives in St. John's.