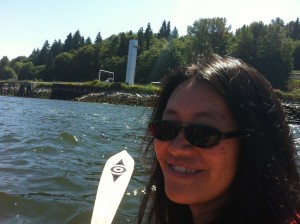 "All this shouting and hollering won't solve anything—it will only make us tired and enemies. We all have to live together in this village…" —from Her Head a Village by Makeda Silvera.
Press Gang was a feminist press whose closing I still mourn to this day. Before it shuttered in 2002, it published many books that changed my life. Two short story collections that stay with me are Shani Mootoo's Out on Main Street (1993) and Makeda Silvera's Her Head a Village (1994).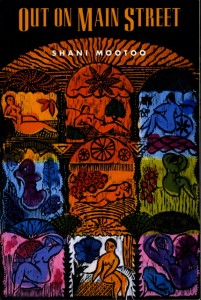 Mootoo's title story is a hilarious narrative of a visit to an Indian sweet shop on Main Street in Vancouver, told from the perspective of a dyke who is very possessive of her girlfriend. Over a quick afternoon snack of meethai and tea, the shop's customers and crew flip from being pissed off at racist bumblers, to women bonding against sexism, to manifesting homophobia in the face of exuberant lesbian visibility. With her keen ear for dialogue and vivid description, Mootoo nails what we would today call micro-aggressions, before that term became popular. And she does it with humour and verve. Some of the stories are more chilling, delving into domestic violence and the loneliness of being isolated in Canada. Throughout, Mootoo relates "The Upside-downness of the World as it Unfolds" in unexpected ways. In her stories' brutal honesty and compassionate frankness, she gave me permission to also speak freely, to not censor myself, to not un-see what I could see.
The black woman writer in Silvera's title story hears so many voices—gossip, jeering, accusations that exhaust her, that dismiss her calling—but she finds a path through them with grace and love. I encountered this book when it felt presumptuous call myself a writer (and to this day, I call myself someone who writes, on a good day, and there are plenty of bad days). Silvera shatters all the preconceptions of low self-esteem and internalized sexism, racism, and classism. Her stories take us to the welfare line, to lesbian bedrooms, to the deportation of a courageous beautiful black woman by a racist colonial state, to queer boys in Jamaican villages, and more. Through broken, tough, caring, and challenging characters, she helps us to feel the beauty of black resistance in the face of the injustices that come with structural inequality.
Both books taught me the power of sharing the stories that are too often suppressed and buried. They taught me how people live with courage, observation, curiosity, and love in the face of systemic intimidation and bullies—the power of everyday small acts. The name for Canada comes from the Huron-Iroquois word for "village," and if this village is to respect its Indigenous hosts, those of us who have come here from all four directions of the world have much listening and learning to do with one another.
Rita Wong lives on the unceded Coast Salish territories of the Musqueam, Squamish, and Tsleil-Waututh First Nations. Her latest books, undercurrent (poems) and perpetual (graphic essays), were published by Nightwood Editions in 2015. Her first book of poems, monkeypuzzle, was published by Press Gang in 1998. Her other books include forage (awarded the Dorothy Livesay Poetry Prize and Canada Reads Poetry) and sybil unrest (co-written with Larissa Lai). With Dorothy Christian, she is co-editing an anthology called Downstream: Reimagining Water, forthcoming in 2016.