Esther McPhee
i.
It's not spring weather yet but I want it to be. Winter's lasted
too long—I'm still not accustomed to the strength
of east coast snow and I miss the rain, how February at home
marks the first of spring, thaw of green frost and the crocus
beginning. But here Joel starts the car, sputtering
against the cold. Turns the radio on. He drives me into town
and I buy an umbrella out of hope. The song carries on,
those highways looping into each other outside of the window
while the track skips, asks where did last year's lessons go
twice. I don't know the answer or when the rain will come
or what we're doing here, waiting for the page to turn.
ii.
Later I walk through the woods with a girl I just met. We sink
down a foot, soak our boots. The landscape wrung out
of colour by the weather: white snow, grey sky,
the frozen light along the Vermont treeline.
Every minute the sun slips further into ember,
toward that indisguisable shade of twilight. I always liked that turn
in the song. By that verse we're almost halfway through
the highway of sound, the ribbon winding us back
home. Almost. The girl I'm with wears a scarlet sweater.
She brought oranges—we each tuck a tangelo
in our pockets, candy bright. A bird sings somewhere far off
and maybe we're getting close to spring after all.
When we stop at a bench to eat the fruit, a piece
of the peel falls, its colour as shocking against the snow
as blood coughed into a white handkerchief.
Remember that part of the song, when she calls Lazarus
out into the light? That line always falls into me
like rain. The sound of it comes through
the canopy of the cold woods—memory
or premonition or both.
The title and all italicized lines come from the Gillian Welch and David Rawlings song "I Dream a Highway."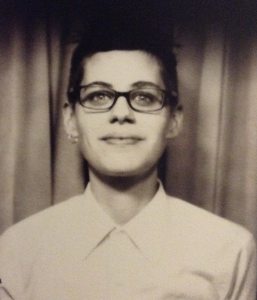 Esther McPhee is a writer, magic-maker, and collective organizer who grew up on Stó:lō land and now lives on Musqueam, Squamish, and Tsleil-Waututh land in Vancouver, where they earned an MFA in creative writing from UBC. They're one half of the organizing team behind REVERB: A Queer Reading Series and can be visited online at esthermcphee.com.