All of the essays in Brazen Femme do just that–help 'good girls' reach down and grab hold of our wild selves, throw out what we have been taught in favour of what we innately know. That to be femme is to be a survivor, an unbending battle ax. And it helps 'bad girls' see ourselves in all of our complex and myriad truths–as fighters, as lovers, as exhausted and as all-powerful. Brazen Femme knows that femmeness is not about gender but about attitude; is not about traditional femininity but about overriding heteronormativity.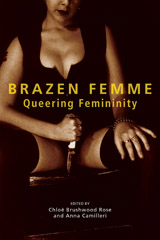 I unwittingly pulled Brazen Femme off a shelf at a feminist book store many years ago and it delivered me to parts of myself I hadn't yet named. It's a crucial read for anyone who is femme, who loves femmes, or who is searching.
Kaleigh Trace is a writer and sex educator. Her first book, Hot, Wet & Shaking: How I Learned to Talk About Sex (Invisible Publishing) was released in July 2014.