In addition to the compelling storytelling, something I particularly admire about Shyam Selvadurai's Funny Boy is the structure of how the story unfolds. It slowly unfurls, chapter by chapter, from the politics within the microcosm of a children's world to conflicts on the national level, and eventually expanding to an international scope.
The first chapter, which was published on its own as a short story, begins with a family gathering in Sri Lanka. The main character, Arjie, crosses invisible gender lines, preferring to play dress up with the girls rather than sports with the boys. Their bubble world is shattered by the intrusion of an outsider, who uses homophobia to get her way, thereby introducing Arjie to the realities of the wider world.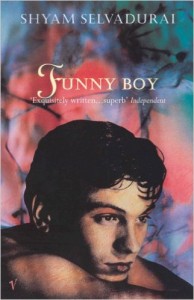 With each successive chapter—each complete short stories in themselves—Arjie's world expands as we follow him through the awkwardness of a closeted adolescence. Internally, he struggles with his emerging sexual identity, a hidden conflict that parallels the growing political tensions in the country that culminate in the 1983 riots and the family's escape to Canada.
As foreign as Arjie's life was, I could identify with and relate to many of his internal experiences, even as I learned about Sri Lankan culture, society, and politics. Its reach extended not only across cultures but across time, as it's a story that has stayed with me since I first read it back in the 1990s.
Craig Takeuchi is a UBC MFA Creative Writing graduate whose short fiction has been published in several anthologies, including Best Canadian Stories 2000. He has worked as an editorial staff member of several Vancouver magazines and a freelance writer for national and international publications. He is currently a staff writer for the Georgia Straight newspaper.