Julian Gunn
Lemon drops. Bitter torque.
Al Pacino cruising for watersports.
Born again by stoma, your new
topology. A hole as always
the gap of meaning.
In medias res: Seattle.
Nephrophilia. The scene
in the basement. The old boyfriend
pissing on the floor.
A student of the body
on hands and knees
lapping and spitting into the drain.
A smelted soldier and a single spangle
we entered without bravery
sans oaths, vowed the minimum
burned anyway.
Finale: piss in one pocket
candy in the other–who am I
to judge? I, too, 'm mostly water.
The fount in your side. Who tended it
those last bitter days? Not me.
I have cried since, but like an old man
childishly.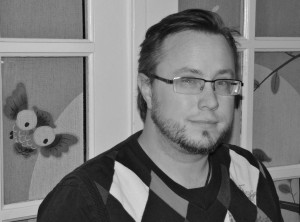 Julian Gunn is a recent MA graduate of the University of Victoria, and now teaches English at Camosun College in Victoria, BC. His personal essays on transgender issues have been published in the anthologies Nobody's Father (2009) and In the Flesh (2012), and his essays on Doctor Who and Star Trek are included in Outside In 2 (2015) and Outside in: TOS (forthcoming). He hopes in the future to be important to one small dog or several cats of no requisite size.