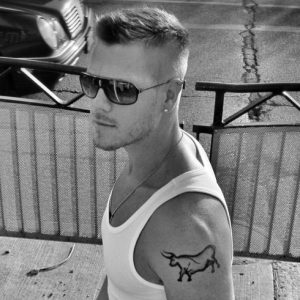 Plenitude magazine is co-presenting this month's Queer Night at the Brockton Writers Series on Wednesday, July 13, 2016 at  full of beans Coffee House & Roastery, 1348 Dundas St. W., Toronto (6:30pm, PWYC)—featuring Matt Loney, Gwen Benaway, Kumasi Jay Gwynne, Yaya Yao and a special guest talk by Plenitude reviews editor Rachna Contractor!
by Matthew R. Loney
—A glorious June: I go outside to sunbathe on the blanket I lifted from Turkish Airlines the summer I spent a month in Istanbul.
—"Pride Flag Flies On Parliament Hill For The First Time"
—Photo caption: Wall Street Journal – "A Palestinian boy riding a bike during sunset at Al Khalde mosque, Gaza Strip, on the eve of Ramadan, which starts June 6, 2016."
—I had mistaken the old man for a vagrant, had judged his apparent shabbiness: "Did you guys hear about Florida?" he calls to us as he wobbles by on his bicycle. "Horrible, that stuff." "A tragedy," we exchange. "You boys have a safe day." Sunday morning, we are headed to the beach.
—That same summer in 2014, I stopped over in Tel Aviv. Their Pride had just finished; the Israeli military push into the Gaza Strip had restarted. When one afternoon, as it had each prior, the air-raid sirens lifted and fell across the city, I gathered this same airline blanket from the sand and ran to take shelter. Rockets incoming.
—The pound sterling nosedives to 31-year lows.
—"They took shelter in a bathroom stall with other club-goers, which the shooter later entered."
—I consider whether Empire crumbles or just falls dormant.
—Rereading his email, I respond to a friend working for the United Nations in South Sudan. I investigate the strange feeling his stories give me, the tragedies of faraway places, of shared terror. Over there, there are child soldiers. There are mining and oil-field playgrounds of international interest. There are mass graves and reports of forced cannibalism. His email boils down to a phrase: "I don't understand the hatred."
—My phone vibrates: "Turkey blames Daesh for Istanbul airport blast that killed 41"
—Is my smartphone just a megaphone for Empire?
—"Apparently using his smartphone, Omar Mateen searched on Facebook for 'Pulse Orlando' and 'shooting' during his three-hour early morning attack…"
—My partner finally blocks his Evangelical sister on Facebook. He won't repent; he cannot. We are not an abomination.
—How do you suntan in a warzone?
—"He pledged allegiance to the Islamic State."
—Is my smartphone just a megaphone for Caliphate?
—I met my partner on Facebook.
—Fear and hatred. The confluence is elementary: I fear therefore I hate.
—We were helpless in our hotel room; the Iron Dome celebrated its interception in the blue sky outside. The thunderous explosions rattled the glass in their panes.
—What is it that wants to kill me? Who wants me dead? Where does my vote weigh in the tipping point between surrender and resistance?
—"The Union Jack and Rainbow Flag at half-mast as Redditch remembers victims of Orlando slaughter"
—The Roman Empire fell. The Ottoman Empire fell.
—"The Union Jack hoisted on one of the 28 flagpoles outside the European Commission building might as well have been flying at half-staff…."
—"A prominent Italian historian has claimed that the Roman Empire collapsed because a 'contagion of homosexuality and effeminacy' made it easy pickings for barbarian hordes."
—The sight of two men kissing angered him. Barbarian.
—"I was kissing my boyfriend goodbye when I heard the first shots…"
—In Europe, the police sirens sound different.
—"A Man With 'Arsenal' Arrested Near L.A. Pride Festival"
—In South Sudan, there are no sirens.
—The precipitate of hate is courage: #twomenkissing
—"There are no significant festivals in South Sudan during the month of June" the tourist board would say if it existed.
—A crescent moon lifts behind the rainbow-coloured CN Tower.
—"Turkish police fire tear gas in Istanbul to disperse Gay Pride activists"
—Nearly each morning this month, one might say religiously, the straight couple in the condo across from ours fucks, unabashed, in full view.
END
Matthew R. Loney is the author of That Savage Water (Exile Editions, 2014)—a collection of backpacker-themed short fiction. He was a finalist for the 2013 and 2014 Gloria Vanderbilt Short Fiction Award and his work has appeared in a range of North American publications, including instalments Three and Four of the Carter V. Cooper Short Fiction Anthology Series and the political short fiction anthology Everything Is So Political. His book reviews have appeared in the Puritan, the Maple Tree Literary Supplement, and Broken Pencil. He lives in Toronto.