Roxanna Bennett
In Oxford on OxyContin, in Ajax
on Ativan, in Paris on Percocets,
in Cobourg on Clonazepam, in Switzerland
on Seroquel, in Scarborough on Serentil,
Berlin is a blur of Baclofen & Nabilone,
Old Town is absinthe, Abilify & absence,
Montreal is Mirtazapine, codeine & callous,
Strasbourg is a parking lot of Pepto-Bismol
& panic, the hospital is a labyrinth of
protocol & damage, a Code White is
a euphemism for "your pain is a tidal wave
our system can't manage," home was
that floor, that skin, that skeleton, now it is
aether, vibration, air & the ocean, O & the ocean.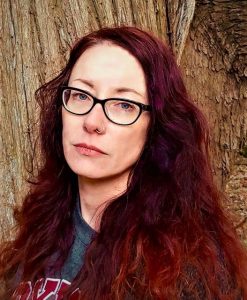 Roxanna Bennett is a queer disabled poet gratefully living on the traditional territories of the Mississaugas of Scugog Island First Nations covered by the Upper Canada Treaties (Whitby, Ontario). She is the author of Unmeaningable (Gordon Hill Press, 2019), winner of the 2020 Trillium Book Award for Poetry; the bp Nichol Chapbook Award nominated unseen garden ( knife | fork | book, 2018); and The Uncertainty Principle (Tightrope Books, 2014).