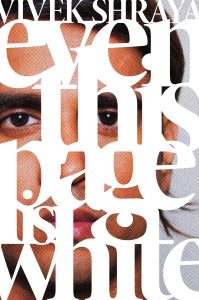 Reviewed by Gwen Benaway
Published in 2016, even this page is white is Vivek Shraya's first book of poetry. She is already an accomplished and award-winning prose writer as well as a musician, photographer, videographer, and artist. Her entry into poetry marks other transformations in her life, such as discussing her gender with a wider audience and marching as the grand marshal of the 2016 Toronto Pride Parade. Everywhere I look in the summer of 2016, I see Shraya's image appearing before me.
Reading even this page is white marks my first engagement with her written work. While I own a copy of Shraya's other critically acclaimed work, She of the Mountains, it has sat untouched on my bedside table since I bought it. As a first introduction to Shraya's work, even this page is white is a compelling and troubling beginning. I'm the ideal audience for her work as an Indigenous racialized transwoman who is a self-declared poetry nerd. Despite my intersections with her work or perhaps because of them, I'm wary of reading even this page is white and put it off for as long as I can.
Many racialized or trans readers can relate to my hesitation. So often, works from a racialized or trans perspective can cause us harm with how they handle our lives. When the writer does a beautiful job and produces brilliant work like Shraya does, it is often worse. I find the pain of encountering truth on the page is rarely worth the read. Fortunately for me and other readers, Shraya's work is worth the mental groundwork of navigating the complexity of race, whiteness, gender, and colonization.
Shraya's even this page is white is an explicit exploration of racism from many sides. It looks at race-based gender violence, racism in Queer spaces, racism through economics, racism in friendships, and racism in sex and love. She frames the work with a quote from George Elliott Clarke, one of Canada's most acclaimed poets of colour, which describes how the "black words dance" to destroy whiteness. As an Indigenous reader, I can't imagine how else Shraya could enter the conversation of poetry without first stepping through the veil of whiteness that surrounds the medium.
In one of the opening poems in the collection, "White Dreams," Shraya writes, "I have white dreams / billboard magazines." The speaker names her participation in whiteness and questions how whiteness as a social construct infects her life, including mention of her white lover. Close to the end of the poem, she writes about trying to consume the whiteness, "mask it with words / about being brown / about my mother / my motherland" before concluding "but even these words / have white / dreams…" In many ways, this piece and its conflicted conclusions about the burden of whiteness frame the rest of the collection.
I feel as if Shraya is trying to write past whiteness to another kingdom that seems impossible and unknowable to her. Some of the pieces in even this page is white offer windows into Shraya's inner life, flashes of a soft and certain poetic voice that seem to emerge from this land past whiteness. My favourite pieces in even this page is white are the ones that speak from the speaker's private experiences. They are small pieces in the collection, sandwiched between larger engagements with whiteness and critical responses to racism.
In "under the pink," she writes, "i would guard / all my softness / my tender places / like my life depended on it." Her instinct and desire to protect herself show in the poetry. One way of reading even this page is white is as an articulate attack on whiteness from a space Shraya has constructed out of words and symbols of power. She brings in the voices of other writers, friends, and lovers as shields against whiteness, striking at the heart of the persistent threat of whiteness and how it has transformed her life. This can make even this page is white seem like a larger written performance piece, a theatrical staging designed to dazzle, distract, and disintegrate whiteness.
In the middle of even this page is a white, Shraya transitions from poetry into a section of interviews with several white friends. The break creates an interesting separation from the rest of the collection. While Shraya's poetry is conversational and the thematic content of the section relates to the collection's central narrative, the re-centring of white voices is unusual. It works to capture the dialogue of whiteness and is an interesting approach to making white voices accessible as an object of inquiry, but also risks disrupting the supremacy of Shraya's voice as an inquisitor of whiteness. Perhaps this is her goal, a conversational reminder of the multiplicity of voices on whiteness and way of holding white people responsible for their perspectives.
In "a dog named lavender," one of the collection's central pieces, Shraya writes one of the most revealing lines in even this page is white. She walks through an inner monologue about the questions that arise during experiences of racism and writes at the conclusion of the poem: "what would i make if i wasn't thinking about this / who co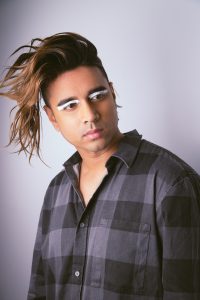 uld i be if i wasn't thinking about this." I read these lines as an admission and mourning of the price of whiteness. Throughout the collection, Shraya fluctuates between naming her complicity in racism and whiteness while identifying the myriad ways whiteness feels impossible to challenge.
The exhaustion of experiencing whiteness sits at the heart of even this page is white. It feels as if Shraya is reluctantly pulled to poetry as a response to whiteness. She engages and dismantles it while conceding that she cannot be fully free of it. There could be a temptation to view Shraya's collection as solely about racism and whiteness. While engaging with racism and whiteness is the mandate of the collection, it speaks past whiteness to the other land where most of us live. It is a messy and compromised kingdom, but Shraya manages to articulate the beauty and richness of lives that whiteness cannot consume.
What would Shraya write if whiteness and racism did not exist? I don't know, but I do know it would not be better than this collection. Different, but not an improvement on the structured and focused lines that fill even this page is white. Works by writers of colour and trans writers are often evaluated through the lens of social importance rather than a lens of artistic merit. I can see readers approaching even this page is white from a similar viewpoint, but I challenge any writer to engage with racism and whiteness in as powerful and clever a way as Shraya. This collection doesn't break the white page, but it coats the lining of the book in the colour of story and fire.
When I finish reading even this page is white, I am left with questions. I want to speak to Shraya's image and ask her what she really thinks about whiteness. To me, this is why even this page is white is such an accomplishment for Shraya. She captures the conversation around whiteness and tosses it back to her readers as a web of words. There are no easy answers. For every racialized person, this constant dialogue with whiteness is our lives. We love and grow around it, like flowers in the sidewalk, but we're caught in it and can't escape. Shraya's even this page is white does not show us a way out, but it illuminates the beauty of a life lived on the edges of whiteness's blank page.
Vivek Shraya, even this page is white, (Arsenal Pulp Press, 2016). Paperback, 120pp., $14.95
Gwen Benaway is of Anishinaabe and Métis descent. Her first collection of poetry, Ceremonies for the Dead, was published in 2013 and her second collection of poetry, Passage, is forthcoming from Kegedonce Press in Fall 2016. An emerging Two-Spirited Trans poet, she has been described as the spiritual love child of Tomson Highway and Anne Sexton. In 2015, she was the recipient of the inaugural Speaker's Award for a Young Author and in 2016 she received an Dayne Ogilvie Honour of Distinction for Emerging Queer Authors from the Writer's Trust of Canada. Her work has been published and anthologized internationally. She and her many vintage dresses can be found on Instagram @gwenbenaway