Dina Del Bucchia and Daniel Zomparelli
1.
I don't really remember much these days, when the bones arrived I talked about paper or the way glass isn't something I want to be around. Did you remember the way love works, I told you once in a small elevator that the world closes in on you in the moments of memory. Sometimes I work on forgetting. I practice it every five minutes. I work through each memory of you, and forget that one, then move onto the next. Sometimes a memory comes back, and I work on blacking it out, from the couch, to the bed, to the television, to the chicken sandwich you ate afterwards. Ashes have memories attached too, but you can't see them. Jumping off a cliff doesn't let the memory run away, it only lets it slip back until the memory jumps too, and holds onto you for dear life in the ocean that was never very good at swallowing you up. The ocean runs away from you too.
2.
Sometimes I think about how memory stretches my skin. You have a terrible memory so you smile more than I do. I remember, one time in Hawaii, you tightened the blankets around my body so I couldn't escape, or so that memory couldn't escape, and you put a bible over my chest. I don't believe in monsters, so I escaped.
3.
You are the devil, I said. Blond hair and blue eyes. I gave you control. I gave up all control. Control is just a construct. I gave up my memories. I handed them to you, but you were never very good at carrying things. I gave my memories names, and put them on your shoulders. I buried a few memories for later. I put some of my memories in mason jars and leave them in the cupboard. I put a few of my memories in mason jars, and put them on the counter because they look better for public display.
4.
You said jump, and I did. The memory holding on for dear life.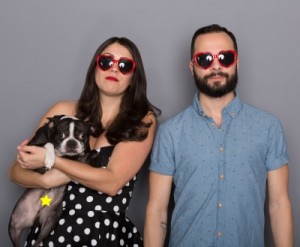 Dina Del Bucchia is the author of Coping with Emotions and Otters (Talonbooks, 2013) and Blind Items (Insomniac Press, 2014). Daniel Zomparelli is the Editor-In-Chief of Poetry Is Dead magazine and author of Davie Street Translations (Talonbooks, 2012). Together, they make up the duo behind Can't Lit, a podcast on Canadian literature. Rom Com is their collaborative poetry book forthcoming from Talonbooks, fall 2015.