Savannah Oliker
I am five rows behind a pair of lovers,
their heads bowed toward one another
like white doves.
Someone enters from the street—
in a cobalt poncho
and a big red hat. I cannot see
her face— but I know she is a woman
by the smallness of her
and the shifty movement of her feet.
She takes a doll from her backpack
and kisses it, parental and unashamed,
then hooks arms with the evening volunteer
and together, they walk
down the centre aisle of the cathedral
like a scene from some strange wedding.
These are times alone—
these are diamonds, these are proof
that this world will house me,
that I will be forgiven for finding nobody
enough of anything, any amount of everything
to stand beside.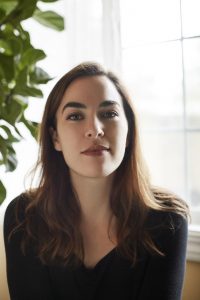 Savannah Oliker is a poet based in Seattle, Washington. Her work is published in Cosmonauts Avenue and forthcoming in Birds Piled Loosely and Angel City Review. She was most recently a writer in residence at the Vermont Studio Center and The Alice Gallery. She received her BA in poetry and English literature from the University of California Santa Cruz and her MA in sexuality studies from San Francisco State University.