Reviewed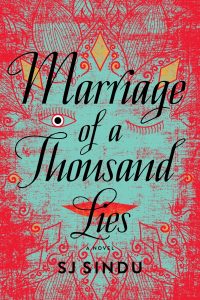 by Rachna Contractor
Novels by and about queer South Asians in North America will never be what I want them to be; SJ Sindu's debut novel, Marriage of a Thousand Lies, helped me let go of all expectation.
Set within a comfortably middle-class community outside Boston and filled with family drama, intergenerational conflict, immigrant expectation, and duty, there is just enough pepper to spice up this story. But it's just pepper, not masala. Complex in a predictable way, the story meanders but walks right into the "Western" idea of a happy ending. SJ Sindu uses language beautifully, but the story is boring.
Lucky and Kris have found a way to balance their individual queerness and her need to maintain harmony with family—a heterosexual marriage of convenience, for appearance's sake. They are adults who met in college, friends who love each other, encouraging desire and sex with others. Unfortunately, Lucky's queerness is the only break from the "model minority" trope offered in this novel.
Sindu's novel is a series of beautifully written paragraphs punctuated with cliché phrases and trajectories, relying on the usual tropes. There is an entire page describing the interaction between Lucky and a rugby friend coaching her through a tackle. It is sexy without being sexual—it is perfect. But later in the story, Lucky buzzes her hair to fit in with the rugby-playing lesbians.
Furthering this notion is a misplaced reference to Bollywood culture that repeats throughout the novel. "By the time I get there, the guests have already started to arrive, swishing their saree pleats around their glittery stilettos. It makes me think of Bollywood movies, of curvy, milk-skinned heroines and men who never take no for an answer." Lucky's family is Sri Lankan; they speak Tamil. Tamil speakers have an entertainment industry called Tollywood, where many famous Bollywood movies (Hindi-language films) originate. So I found all this reference to Bollywood intriguing and annoying, culturally speaking, especially because Tollywood originals are often better but remade because they do not appeal to the light-skin-preferring, Hindi-speaking population. Bollywood is far more recognizable to non–South Asians than Tollywood, making me wonder again for whom this novel is written.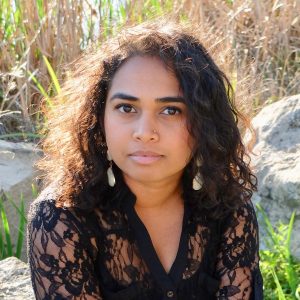 By far, the best executed aspect of this novel is the character development. There are the usual figures: mother, father, grandmother, step-mother. Distant and estranged siblings. Best friend/girlfriend, rugby-playing, lesbian friends. The unusual part, the best part, is how close to each character's inner world we get, from Lucky's perspective. Sindu has written paragraphs upon paragraphs describing the mundaneness of each character's actions, and how they relate to decisions Lucky has made with the intention of protecting those closest to her, rather than bringing pain and shame to the family. But all of the protection at the cost of her own happiness is a bit tiresome.
And then there are secrets. It's the secrets I take issue with the most because this hidden queerness—the marriage of convenience, the sneaking around of two grown women—plays on the idea that South Asian parents are too weak to handle deviation from the norm. I know this is true for many diasporic South Asians, I know that many grew up hiding in shadows and continue to keep aspects of their lives a secret as adults, but I want to hear a different story. I want stories that break from this narrative of secrets and shame, that offer hope and possibility for how things could be, and how things are in fact, for many South Asians. I get the sense that perhaps stories like this one are not written for people like myself, for South Asians; they are written for North Americans who find solace in this narrative, which validates their ideas of a one-dimensional (homophobic) South Asian culture.
Of particular interest is Sindu's remarkably written description of Scarborough and family visits to the Toronto suburb, which is populated with Tamil people and other immigrants. She manages to capture Scarborough's diversity and bustle in one simple line: "The neighbourhood of Scarborough sprawled out under me, its wide gridded roads, neon storefronts in Tamil and Mandarin, well-lit buses crawling along like glass beetles."
Marriage of a Thousand Lies demonstrates Sindu's talent as a writer, but less so as a storyteller. She belongs to the contemporary cast of South Asians writing about queerness, but I look forward to seeing something more original.
SJ Sindu, Marriage of a Thousand Lies, (Penguin Random House, 2017.) Hardcover, 288pp., $30.00
Rachna Contractor is Reviews Editor for Plenitude Magazine. She has written about literature, art and culture for Xtra, Wiqaable.com and Kala Magazine. She earned a BA in Art History from the University of Toronto. After a decade of working in communications, Rachna moved to the hospitality industry where she spins stories about food and beverage.