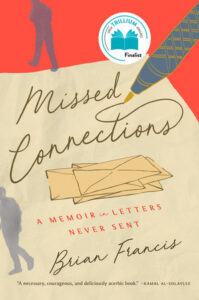 Reviewed by Melinda Roy
I am a late bloomer. I came out as queer at 32 and was diagnosed with ADHD two years later. There were signs of both, which I can see when I look back; my journeys to self-acceptance as a queer and neurodivergent person parallel each other. And so, I can't help but engage with books from both perspectives. The challenge, as a queer ADHD memoir reader, is finding stories that are both relatable and hold my attention. Missed Connections: A Memoir in Letters Never Sent by Brian Francis does both.
Missed Connections is an adaptation of Francis' play, Box 4901, where he reflects on queer culture and his life as a young gay man in Sarnia, Ontario in the 80s and 90s. As a closeted university student in the 90s, Francis placed a personal ad in the local paper hoping to connect with other gay men who were also "tired of being alone." Now, more than twenty years after placing the ad, Francis (who describes himself as well into middle age) responds to the men his younger self considered "too old, too boring, too humourless, too delusional."
I first read Missed Connections as an audiobook while driving to see friends in a neighboring town. My ADHD brain loves an audiobook—if it's read well. I can fidget and stim while listening, I can skip back a few minutes if I've found I wasn't paying attention or skip ahead in the audio if I'm impatient. But the tone and cadence of the reading must keep my brain engaged; and in Francis' reading, all his snark, heart, and hurt, are clear in his voice. Some lines are best heard out loud, including the opening response to letter 5: "You were a teacher and you spelled "gorgeous" wrong. I hope you didn't teach English." Or, the response to Letter 7 where the sender imagines what Francis would look like, and Francis' full response simply says: "This does not sound like me. I would never wear a white turtleneck under a sweater. Sincerely, Brian." Francis is one of the best audiobook readers I've heard, and his writing style transitions easily from the page to spoken word.
When I picked up a hard copy, I found the book still held my attention. Or rather, my habit of forgetting where I left off or reading out of order didn't detract from my ability to enjoy the book. Additionally, Missed Connections does something my ADHD brain loves—it cycles through ideas; each personal story brings a deeper understanding to the same fears, hopes, and fascinations Francis had throughout his life. The cycle I found most heart wrenching was his suppressed opportunities for joy, and the expectations to grow out of the things that once brought him happiness: at what age is it no longer okay to feel good dressing up? At what age is it no longer acceptable to lip sync to Celine Dion or to imagine ourselves as a cabaret dancer? How old do we have to be before we can give ourselves permission to experience our own capacity for happiness? The answer, Francis tells us over and over, is that joy is for every age, and no matter how it shows up, joy should be honored.
This cycling of ideas reflects human nature generally, and for some, queer identity goes through cycles too. My ADHD brain also needs repeated cycles and reminders for me to learn a new skill or adopt a new habit. As Francis reflects on the development of his queer identity and the search for love with gentleness, I see a model for late-diagnosed ADHDers for extending that same gentleness to their younger and sometimes toxic selves: "It would take me years to untangle those [toxic] beliefs…Years to learn that I had worth. Years to learn the necessity of self-care. Years to learn that the only person I needed to trust was myself. Years to learn that I was never, ever as smart as I thought I was."
Francis' memoir travels through his childhood, going to college, coming out, getting married, and his fathers' passing. Some stories make you laugh, like the one about his self-induced constipation, and some make you cringe, like his fathers' homophobic comments while having "the talk" with Francis, or his mother refusing to buy him a knock-off Barbie doll. Others may make you cry, when he writes about how his parents have changed, or about being surrounded by friends and family at his wedding. Written with a gentle, retrospective loving-kindness and a fair amount of humor at his own idiosyncrasies:
There were signs that I was gay, although my roommates didn't clue in to them—not back then, in the days before Will & Grace. But it was true, I was the only one to wallpaper his room and paint the trim in an accent colour (teal) […] the wallpaper should have been a dead giveaway.
He invites the reader into his embarrassing moments, but also into his moments of joy and hope. We hear someone describe with full presence and compassion what it is to discover and allow your own humanity, even in the difficult times: "Brilliance is on its way. It won't happen overnight and it won't completely cast aside those shadows, but they'll weaken." You can clean emotional house to Missed Connections: all the piles of feelings you haven't quite sorted out about your own parents, your past loves, or yourself, become a little easier to sort through when someone else has shown you how.
The book speaks about queer culture through Canadian history: how the AIDS crisis resulted in a queer generational divide and lack of living queer elders; the experiential divide between white queer cis people and queer and trans people of color, as highlighted by the Black Lives Matter anti-policing protest at the Toronto Pride Parade in 2016. While belonging, identity and family are major themes, as a whole Missed Connections is about what we miss when we are not our full selves, and when we're not in community with others who are different from us. I appreciate Francis thoughtful reminder for me and other white queer people to "never take for granted the milestones we can celebrate as queer people" and reflect on the narrow lens through which we see the world. As an ADHD person, I think this lesson applies for neurotypes as well. We can only see the world through how our brain interprets it, but we can do the work to expand what the brain knows and thereby make the world safer for ourselves and everyone else.
I am grateful for queer writer-elders like Brian Francis. As I struggle to accept and love myself as both a queer and neurodivergent misfit, memoirs like Missed Connections teach me about the long journey towards self acceptance, remind me love is worth the effort, and that heartbreak heals when we find those with whom we can be our truest, weirdest selves.
…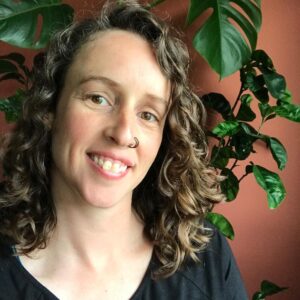 Melinda Roy is a queer, neurodivergent birdwatcher, angler, writer and MFA student. Her writing has been published in The Malahat Review, Augur, and untethered, among others. She blogs at melindaroy.wordpress.com and can be found on Instagram at melinda_writes.