before lockdown i dreamt that a serpent tried
to kill me. so i tattooed it to my forearm
in the place of my neck, a vision of black scales
& black eyes blazed alight beneath the red
of an imaginary sun. when an alien summer leaves
you hypomanic it makes perfect sense to carve
nightmare mythology to the mourning brown
of your impatient body: snake's mouth glossy
with poison. muscle coiling & poised with intention
to harm. i'd done so much in autumn to try
& feel better. like i'd shaved half my head & thrifted
a book on how to be psychic, conjured
a white light that stretched brilliant streets
past my body. tried 3 am divination
to see shadow birds & shadow bridges & birds
that teetered off the bridges, leaping like mirror
glare off leaves in mid-wilt. i'd tracked the scarlet
harvest moon, had followed its languid transit
into pisces, scrubbed raw moonstone
against willing palms, drew death & the devil
& three of swords reversed. see, i'm trying
to be myself but a little less
myself. less breaking plates to beyoncé's
lemonade, less don't hurt yourself. more
forward. less midnight weeping at the window
as i smoke all alone. more cliff wind, less cliff
edge. i don't know the last time i felt god,
i mean good. but when jay som said
mahal kita into the mic above a mostly
maputi crowd aside from a few filipinas
in the front row, swaying denim hips
to anak ko's closing chords, it was
the closest to good i'd ever felt.
…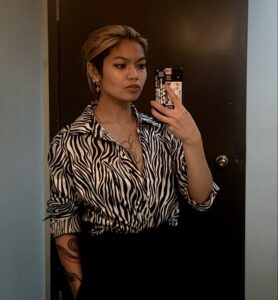 Louie Leyson is a Filipino writer, UBC graduate, and recent Pushcart Prize nominee who lives on the unceded ancestral territory of the Musqueam, Squamish, and Tsleil-Waututh Nations. You can find their work in Catapult, The Malahat Review, Palette Poetry, The Rupture, Nat. Brut, and elsewhere. Their twitter is @aswangpoem, their instagram is @cyborgsaints. Currently they're remixing the myth of Cassandra.