Annick MacAskill
The universe gets a little heavy-handed
when you're around—the Bow still green
all these kilometers down river; two geese
and their tuft of fledgling:
proof that the universe was once the size of a gumball.
Time is a rubber band, we joke. Nothing
like looking over and seeing you driving.
The song last night said it all—I hate
that you don't think I belong to you. Oh
inverted world of forests threaded
with highways, parking lots—light mottled
through the trees and water, the rush of the river,
where sunshine makes glass marbles
in glacier silt—a backdrop we won't think to miss.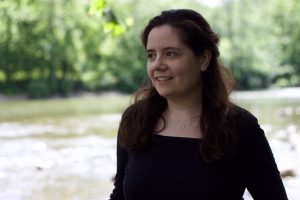 Annick MacAskill's debut poetry collection is No Meeting Without Body (Gaspereau Press, 2018). Her second collection is due to be published by Gaspereau in the spring of 2020. Her poems have appeared in Room, PRISM international, EVENT, Grain, Arc, The Fiddlehead, and other journals. She has also been a finalist for the CBC Canada Writes Poetry Prize, the Short Grain Contest, and a Pushcart Prize. She lives and writes in Kjipuktuk (Halifax), on the traditional, ancestral, and unceded territory of the Mi'kmaq people.