David Ly
Too many men are too afraid
to be tender, too raw.
My love makes me fearless
with fangs and a flickering tongue
plucked from a king
cobra. I match the wildness
someone else wished into you
until you were abandoned.
Nothing between us
is forbidden, too much, too scary.
Your harpy
talons squeeze me and my
salamander pupils dilate. Grip tighter,
my love. I want to watch you
watch me quiver.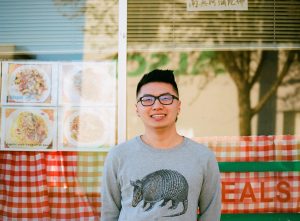 David Ly's poems have appeared in publications such as The /temz/ Review, PRISM international, Pulp Literature, carte blanche, and The Puritan. He is the author of the chapbook Stubble Burn and the forthcoming full-length poetry collection Mythical Man (Anstruther Books, 2020). He has been previously long- and short-listed for the Thomas Morton Memorial Prize in Poetry and the Magpie Award for Poetry, respectively. He can be found on Twitter @dlylyly.