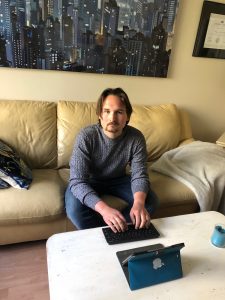 We are excited to announce that Chris Slater has joined the Plenitude team as our second Associate Prose Editor! Chris will work alongside L'Amour Lisik to discover and publish exciting new prose from queer and trans writers around the world.
Chris Slater is a former reporter turned writer living on B.C.'s Sunshine Coast. He holds a journalism diploma from Langara College. He's had articles appear in The North Shore News, The Province, and The Vancouver Sun, among others. His breakthrough fiction piece, Adirondack, appeared in Plenitude in 2020. He's delighted to be able to work with other blossoming writers as he continues to blaze his own fiction writing path.
We would like to thank Dominik Parisien, our outgoing prose editor. Magazines like Plenitude are only successful with editors who bring passion and a skillful eye. Dominik's commitment in working with LGBTQ2S+ writers to publish new queer and trans prose has been unparalleled.
All the best in your new literary adventures, Dominik!