How do you develop character through detail?
I think it's so interesting how different writers use detail differently in order to convey character. Ernest Hemingway in a short story like "Hills Like White Elephants" portrays the two main characters almost entirely through dialogue, and through no physical detail except for the fact that one character is wearing a hat. Really all we get of these characters is their back and forth, push-pull dialogue as each tries to persuade the other into decisions neither wants. A writer like Carol Shields, on the other hand, will give physical detail but she's selective about what she gives, as in this description from her novel Unless: "Cappuccino foam dotted the corners of his undistinguished mouth." How sad that the only thing this character has going for him is the flecks of cappuccino stuck to his face, but it tells the reader so much about the character and the narrator perceiving the character—so much more than if Shields had instead written, "He was not very likeable," which is how I interpret "Cappuccino foam dotted the corners of his undistinguished mouth."
Ultimately, I have no good, firm rules about conveying character through detail. All I know is that it's always been important for me to give each character some kind of specific, recurring tag, whether it's a character who likes a glass of cognac or a character who has braided hair — I think this helps a reader keep track of who's who, which is especially important when I'm working with three or more characters. Another way to convey character is to show the character via what they do and how they interact with the world. Hopefully the reader gets a sense of who Edith is in "Pencil Head" through watching Edith make choices about what and what not to buy as she wanders through the shopping centre.
Writing Prompt
Read Suzette Mayr's "Pencil Head" to see how she uses detail to develop character.
Next, write a scene in which you take a character shopping. What can you reveal about your character as they make choices about what and what not to buy?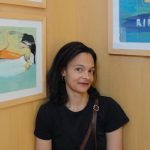 Suzette Mayr is the author of four novels, including her most recent, Monoceros, winner of the ReLit and W. O. Mitchell Awards. Monoceros was also longlisted for the Scotiabank Giller Prize and nominated for the Ferro-Grumley Award for LGBTQ Fiction. She lives and works in Calgary.