"This dance is not optional" propels readers along its dance floor with caesurae and enjambments. Can you comment on the poem as a literal (or metaphorical) dance, and describe how diction and punctuation bring momentum to your poetry?
This piece came as a response to questions of queerness as a "choice" or a small, isolatable element of life. I don't simply stop being queer when doing the laundry or going to work. Love is like that—it exists through the mundane and the challenging, as well as the sublime—so it felt interesting to compare these actions of weaving within the thrum of life to a dance, which can be joyful and exhausting at the same time, both celebratory and physically uncomfortable; we keep on dancing.
The poem employs some intentional tongue-twisting to induce the reader to slowly form difficult words, in an enforced tripping-up of the performance of the piece. There's an inescapable physicality to the poem—it is physically challenging to articulate in places—contorting the reader into measured discomfort, the language at times nausea-inducing ("sway widdershins") and disorienting ("not yours/not mine/not yours" and "wonderers murmur").
Punctuation—specifically semicolons and em dashes—are used in this piece to drive a continued, snowballing pace, encouraging the reader to breathe but not stop, much like a drumbeat might compel a dancer to push through fatigue and sometimes even into euphoria. Enjambments pressure the reader forward too, inducing a near incantation, supporting the otherworldly attribution of "possession" in the third stanza, and the "phantom ship" of the fourth.
Finally, the chanting of the waves (repeating one on top of the next) keeps the blazing ship afloat yet never extinguished, which plays with the idea of the unending dance as an engaging and celebratory urge, versus a sentence of curse or condemnation.
Writing prompt
Read Emily Sanford's "This dance is not optional" to see how punctuation and enjambment influence the pace at which you read the poem. Write a short poem, breaking the lines where it feels comfortable. Now revise the breaks—what happens if the lines are longer? How does the pace change if the lines are much shorter? Are some lines more effective if you break them unexpectedly?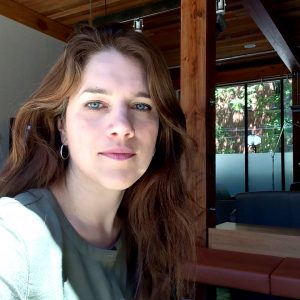 Emily Sanford was born in Nova Scotia and holds an MA in literature and performance from the University of Guelph. She is the winner of the 2016 Eden Mills Writers' Festival Literary Award for Poetry, was shortlisted for the Janice Colbert Poetry Award in both 2016 and 2017, and won third place in the 2017 Blodwyn Prize for Fiction. One of her recent poems was listed amongst The 10 Best Poems of 2016 by Vancouver Poetry House. Her work appears in Grain magazine, Minola Review, newpoetry.ca, and Plenitude magazine, and is forthcoming in (parenthetical) and Canthius. Emily works at the University of Toronto School of Continuing Studies, as the Creative Writing Program administrator.