Centerpoint Mall doesn't know the fate that awaits her. The dust that will soon rise from her roof, the way her shadow will shrink from the parking lot. She thinks what we all think about our bodies. Imperishable.
Centerpoint is an immigrant mall full of immigrant things. Baadeh. Cameo Fashions. Cellularzz. A sign that says "hot and delicious soup" translated into four different languages. Elegant Bags, with its cheap suitcases and fake leather, has a bright red sign with letters leaning to the right. Mothers shouting at children, into cellphones. Old men with paperboy hats slumped on grey couches, doing crosswords, watching people, waiting.
At the front door an old lady asks me to call her a taxi. Her name is Alma. She is so old and so small, eyebrows badly drawn on, lipstick smeared. She gives me the number. Tells me what to say. Entrance one, tell him entrance one. She takes out her own phone from her deep purple jacket pocket. Says, in broken English, What's the word for these things kids play with? A toy? A toy. It's like a toy for me, this thing. I don't even know how to use it. She laughs and I like her laugh. She's small and I like how she's small.
Today, I'm fragile. I am a mismatched body.
Alma says, Where you from?
Iranian, but raised here. I point to the carpeted entrance of Centerpoint Mall. You?
I speak Spanish, she says. She doesn't answer the question. Keeps smiling. I tell her the taxi will be there in five minutes. I've got to go now. I don't actually have to go. I am in no rush. I just feel awkward. She thanks me and walks towards the big glass doors. Waves goodbye behind her back. Drags her shopping trolley behind her.
◊ ◊ ◊
Some stores are new, and some are old here. The food court next to the Dollarama is almost all Asian and Iranian fast food. Mosaic floors, ugly brown, lined with ugly gold. Lucky Star Nails. Congee Queen. Bianca's sells bejeweled evening gowns. The Pakistani man and his son have a stand outside Bianca's where they sell marble globes and statues, chess sets. Cheap jewelry. Glass dolls. Special deal, one day only. When I buy my father's birthday gift (a red marble ball that looks like a planet), the man tells me: You're Irani. Smiles satisfied when I confirm, like he's guessed the winning answer in a cheesy game show. We Pakistanis love your poetry, your literature. As if it belongs only to me. My poetry. My literature.
You write?
I write, but not in Farsi.
Oh. His eyes are sad. What a shame.
◊ ◊ ◊
At Coffee Box, I order a mint tea that is actually green tea. You want baklava with it? the balding man in a stained red t-shirt asks me. Daily special. $3.59. Limited time. I say yes even though I promised Baba yesterday that I would stop eating sugar. I'll wrap it up and put it in my bag. Cancer loves sugar, Baba had said. You shouldn't be eating sugar after your…situation. He points to my chest. Baba is awkward and I love it. I love when he's awkward. Won't say the word, won't connect it to me. He's a scientist, thinks in diagrams, percentages, likelihood. Grains of sugar, under a microscope. Breast cancer cells, under a microscope. His daughter, under a microscope, blurred. The red marble ball that looks like a planet is hard in my hand like the tumour was against my fingers. It's heavy. If it falls, it might crack the ugly brown speckled tiles. Gold rims. Wrecking ball. Hard steel. The dust that will become of this place.
I am tired of writing about dying worlds, but I won't stop, can't stop, won't stop until I'm dead myself. How bleak, how depressing you are, Mahdis says. Maman says. Baba smiles. He's bleak and depressing too sometimes. He is awkward. I am awkward.
When I received the diagnosis, Maman blasted music every morning. Said not a day should go by that you don't dance, that you don't smile. She's read books about positive energy. She has a God. She twirled her hips by my bedside, so good at forcing her body to move through grief. Those days, I craved the familiar. We're always craving the familiar, nostalgia thick in our throats. Maman has a God. But even she doesn't know what's coming. No warning, no family history, nothing. Why? I asked the doctor. Just a fluke, she said. Sometimes, these things happen. But I don't believe loss to be that simple.
I became addicted to long afternoon walks. I'd say, Let's go to Centerpoint Mall.
That place is a dump, how bleak, how depressing. Mahdis, Maman.
The next night, I walk her parameter. I think of dust. I think of Alma. Did she ever get into the taxi? I am suddenly full to the brim with regret. I should have waited. I should have seen her off. There is never more than one chance to say goodbye. Centerpoint doesn't know the fate that awaits her. The condos that will push like stubborn teeth from the earth. All the ways she will be forgotten. She thinks what we all think about our bodies. Imperishable.
…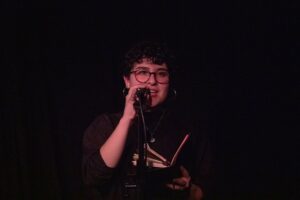 Mahta Riazi is a poet, community worker, and educator living in Tio'tia:ke (Montréal). She is inspired by and indebted to the poetry of Kristin Chang, Forough Farokhzaad, Sayeh, Hieu Minh Nguyen, George Abraham, and Joshua Bennett, among others. You can find her poetry in inQluded magazine, Voicemail Poems, Yolk literary magazine, Bahr magazine, and Brickplight. Her chapbook Parastoo was published in June 2022 by Cactus Press.