After the painting, The Juggler,
by Spanish surrealist, Remedios Varo (1908-1963)
Yesterday a great many pellets
of graupel shot out of the low grey sky—
bouncing ice-balls!
Spring's thunderous shout muffled
by its cloudy facemask.
We have been too knotted
into death counts & pollen counts
& approval ratings to hear
the red-winged blackbird's what-about-meeeeee
at the edge of the train tracks.
Today was brim-full of plans, then
emptied out by mid-afternoon. Tomorrow
will haul in its own disappointments
& spill them onto our doorstep
like a torn mesh bag of birdseed or
another skyful of ice-pills. But tonight
we'll have lentils & loaves & a few
new ideas but mostly messages
to answer. I will think about mandalas
& Scarlatti & why the twenty-one women
cloaked together in Varo's surreal grey garment
thrill & scare me all at once.
…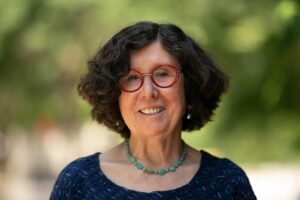 Maureen Hynes, a Toronto poet, has published five books of poetry. Her first collection won the League of Canadian Poet's Gerald Lampert Award, and her most recent collection, Sotto Voce (Brick Books, 2019), was a finalist for the League's Pat Lowther Award, and the Golden Crown Literary Award (U.S.). www.maureenhynes.ca