Roxanna Bennett
after "Bilingual Pathways" by Dominik Parisien
In Paris the air tastes like pain, ancient,
        golden, Gauloises, Gitanes, paint the skin
                with guttersweat grease. I learn to limp
                through the Louvre, loving the Winged
        Victory of Samothrace both for slowing
the staircase pace, & reminding
what holy is. Armless, headless, "right wing
        truncated, reconstructed" nonetheless, a vision
                of wholeness. Let my body be so in translation.
                Is the Mona Lisa smugger on oxycontin
        or is that my blood sugar dropping?
"Does this soufflé contain gluten"
an offensive question in French,
        Czech, & German. Prescription
                Dexedrine jet lag's privilege, gag on
                dinner in the Michelin-starred restaurant,
        learn to starve in new languages, sicken
myself bitching about the Eiffel Tower
crouching in a rat run parking lot.
        Cathedrals I can't climb are yes, quite
                staggering from outside, but treasure isn't
                left on the curb to writhe, the theremin
        whine of tinnitus more tedious in
French. I'm queasy on the Champs-
Élysées and throw up again in the Seine.
        The pharmacienne sneers at my stinging
                skin, recommends sixty euro Avène,
                can I keep walking through this pain,
        temporary, like Paris, September, the sun.
Next time I'm here might be never.
It's no honeymoon hobbling on cobblestones,
        but Larry Eigner wrote from his room,
                how can I complain if once a decade
                I leave mine to board a plane? In an alley
        a refugee mother shelters her son from my eyes,
teenage soldiers with submachine guns saunter
The Pavillon de l'Horloge, I drag myself
        to the Sorbonne to kiss Death at the Faculté de Médecine,
                Henri Allouard's marble reaper leans
                on a gleaming scythe, my teenage goth dream
        date, all boneshroud & fingerbanging, Death,
Death, who comes for you? Who knew Shakespeare
& Co. was so steep & narrow: Give what
        you can, take what you need. Can I give
                myself Paris, can I take a step, can I give
                you a sign I need help, can I take living
        in need? Help me please, don't help me, give
me breath, dignity, jesus fucking wept, give
me strength to forgive myself for giving
        a shit what people think if I crawl, or
                weep, moan or beg, if I am ugly, "crazy," poor,
                in pain, not OK. Can I be here in
        Paris, as I am, crippled, not chic,
middle-aged, ignorant. Left foot, yes then
stamp, cramp, can I accept not much is
        how we expect, if we get what we need
                not to want more than that. Double up, sob, hot stab
                flankshank but right foot, kneescream, maman,
        map of arrondissements stifle tourist gasps
of look, left foot shockwaves thighs, hips, inhale, exhale,
take another step. Oh, those Corinthian columns,
        pediments, acroterium, monuments.
                I can't forget my impediments
                but can I take another breath?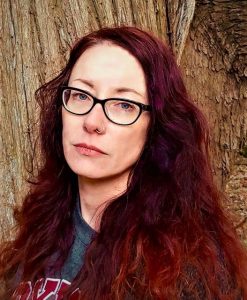 Roxanna Bennett is a queer disabled poet gratefully living on the traditional territories of the Mississaugas of Scugog Island First Nations covered by the Upper Canada Treaties (Whitby, Ontario). She is the author of Unmeaningable (Gordon Hill Press, 2019), the bp Nichol Chapbook Award nominated unseen garden ( knife | fork | book, 2018), and The Uncertainty Principle (Tightrope Books, 2014).