Maureen Hynes
The river was sour then, not yet sweetened
by soda effluent or her declarations.
We were searching for a double bed
over the frothing gorge in a town
full of strangers who knew. A few years ago,
you might have been beaten up, said a friend.
Something witchlike in us though we stayed
far from the river. Icy paths cordoned off
and the sound of crashing water between
the evergreens. All those winter visits
to scenic towns with someone blinded
and blinding. Another love, part of a fifteen-decade
rosary of unsuitables. I have a photo
of the first, but many more of the sweeter,
much more successful last.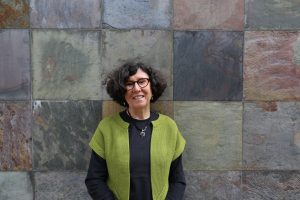 Maureen Hynes's poetry collection, Rough Skin, won the League of Canadian Poets' Gerald Lampert Award for best first book of poetry by a Canadian. Subsequent collections are Harm's Way, Marrow, Willow. Her most recent book, The Poison Colour, was nominated in 2016 for both the Pat Lowther and Raymond Souster Awards. Her poetry has been included in over twenty anthologies, including Best Canadian Poems in English 2010 and 2016, and twice longlisted for the CBC Canada Reads poetry contest. Maureen teaches creative writing at the University of Toronto, and is poetry editor for Our Times magazine.  www.maureenhynes.com.