And so this flaw within the silk
of memory began to run—
—John A. Scott, "Run in the Stocking"
Rain boils. A liar
wakes eating the down on her wrists.
Failure, again, to alarm
the eyes fast enough to shock
unstalked world.
At breakfast, she and her parents
will share a bowl of loquats from the tree. They
might reminisce—loquats boiling
to jam in glut months. Batsong
will mandate whether they'll know what the fruit
or they know.
World where she arrests herself
behind the just blame. A liar goes to piss.
The dog blocks the corridor
near his bed, mid-seizure, moon's
quicklime spilled up him, loquat-pit
-pupiled. Froth shellacs jowls, chest.
Compost? Copperhead? Maybe
the man she saw seizure at the library so ardently
opposed an ambulance
because lightning needn't yoke
to the struck. World where control dreams
like surrender. A liar kisses his belly, it's
alright, my boy. Doubt
wakes the eyes: rip apart; welcome.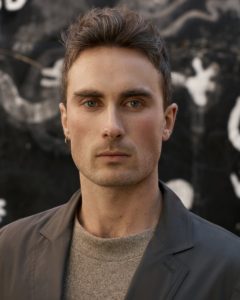 Anders Villani holds dual Australian/Canadian citizenship and lives in Melbourne. He is a graduate of the University of Michigan's Helen Zell Writers' Program, where he received the Delbanco Prize for poetry. His first collection of poems, Aril Wire, was released in Australia in 2018.