Annick MacAskill
I like that pinot in your mouth.
Are you sure you don't want to play in the movies?
I'd watch those movies.
The geese love the nightlife here,
shun the days.
Over the same sink where we brush our teeth,
rinse our coffee mugs, the wine glasses,
I cut the tulip stems with your swiss army knife,
bring them back to the world's order.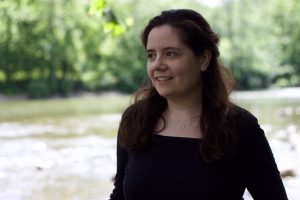 Annick MacAskill's debut poetry collection is No Meeting Without Body (Gaspereau Press, 2018). Her second collection is due to be published by Gaspereau in the spring of 2020. Her poems have appeared in Room, PRISM international, EVENT, Grain, Arc, The Fiddlehead, and other journals. She has also been a finalist for the CBC Canada Writes Poetry Prize, the Short Grain Contest, and a Pushcart Prize. She lives and writes in Kjipuktuk (Halifax), on the traditional, ancestral, and unceded territory of the Mi'kmaq people.