I was first introduced to Bahar Orang's work at Creating Space IX, the Canadian Association for Health Humanities annual conference last year in Hamilton, Ontario. Such a scholarly meeting brings together academics, writers, community activists, medical doctors and students interested in exploring the various connections between health, medicine, and the humanities. As I remember it, Orang read from a work in progress—Poetry? Memoir? A lyric essay?—what was to become Where Things Touch: A Meditation on Beauty. In the opening pages of Orang's debut book, we are introduced to a medical student, a physician in training, still made uneasy by the prospect of blood:
I'm sitting in a psychiatry clinic, on my first rotation
as a medical student. I wanted to start with psychiatry
because the sight of blood still makes me uneasy. It's too
much redness at once, a colour too arresting, too
unambiguous, without intimation or forethought. I
can't find the words, there are no words, really, for a
red that symbolizes nothing, that is only the thing
itself. Red for red's sake. (10)
This is a medical student, a narrator, who peaks my interest. Why? Because common sense would suggest that medical students are not supposed to admit that the sight of blood makes them ill at ease. And so begins a list which can function to delimit who doctors are and, in turn, who patients are in the clinical encounter—the site of exchange between doctor and patient. Instead of downplaying the ubiquity of blood in teaching hospitals and that the very presence of blood in medical spaces speaks to trauma, planned and otherwise, common sense would also suggest that blood should remain contained within the human body. And when it can't be? What to make of this troubling mess, this red that refuses metaphor? What if you are a newly minted doctor grappling with feelings of unease, mitigated at first by the avoidance of blood? Perhaps motivating this logic is the idea that psychiatry might prove a more manageable specialty than surgery or emergency medicine. This idea is posited at the book's beginning but never truly explored.
In occupations like medicine that are rife with compassion fatigue and burnout, some might turn to poetry in an attempt at meaning-making, maybe even solace. Others might turn an unflinching poetic eye to the bloody mess itself in order to encounter anew what could too easily be rendered insignificant. In so doing some might find beauty in things that are commonly understood otherwise. This impulse, where poetry is concerned, is a move riskier than it might first appear. Perhaps this is because poetry is synonymous with beauty, a cliché many of us attempt to undo as we also participate in maintaining some connection between the beautiful and the poetic. But, finding beauty, describing beauty, searching for beauty, evoking, contending and disquieting beauty is not synonymous with aestheticizing an object, a person, or an experience. For me, it is this tension—between beauty and aesthetics—that keeps me interested as a reader and as a writer. In Orang's book, which seeks not to avoid a discussion of beauty where poetry and lyricism are concerned, the focus is to unravel and trouble what beauty is in the first place.
I'm also interested to read the first-person perspective of those invested in the various entanglements where literature and medicine meet, the stories not only of doctors but also of patients. Here is where I would welcome reflection on the various messes embedded in the discipline of psychiatry, not only in its practice but also in its training. While in a residency interview, the speaker of Orang's book first earnestly defends her interdisciplinary interests, most pressingly perhaps, the medical humanities. But no sooner than her explanation for why deep listening and embodied interpretation matter, she reflects that perhaps the interviewers, maybe even herself, are only obliquely persuaded by the lofty goals of narrative medicine. Thus, Orang says:
At another interview, they ask me about my interest
in "interdisciplinarity": what do physicians-in
-training have to gain from reading poems or from
looking at art? I offer some answers in earnest: the
humanities can teach us how to better listen to and
interpret people's stories, the humanities develop our
skills of observation and analysis, they extend our
imaginative potential, and perhaps in some cases
move us to make connections between our patients'
private lives and broader social and political
structures. My interviewers nod, maybe moderately
interested or partially convinced. Though I might just
be reading, in their response, my own investment in
or commitment to the matter. (91)
For me, this is another tension that is productively kept taut throughout the book. On the pages of this book, we enter the world of the speaker, a particularly situated speaker—young, queer, brown, woman, and physician-in-training—who reads, writes, contemplates and in key moments connects with patients through a shared love of the written word. Even if she doubts that any of this truly matters, evidence is presented in moments of connection and care. When a patient, a woman who is in the process of dying, recites the first few lines of Louise Glück's "The Red Poppy," as witness to this exchange I too enter the quiet drama of the moment. Except this patient can't recall the name of the poem or the poet, yet none of that matters. Instead, intuiting that this poem might find a welcome home in the imagination of her doctor, she recites these lines because she knows this doctor is writing about beauty, about flowers. Here, clarity on the difference between thinking and feeling is offered through this poppy's subjective reflection: "The great thing / is not having / a mind. Feelings: / oh, I have those" (p. 35).
Drawing inspiration from Maggie Nelson's Bluets in terms of both form and approach, Orang's Where Things Touch is concerned with recalling and writing to sensory experiences of desire, queerness, and care. This small book asks its reader to consider what it might mean to take beauty seriously even if "medicine, with all the shit, blood and guts, does not wear beauty on its sleeve" (p. 27-28). It maintains that small bits of prose and fragments of poetry can stand as more than the sum of their parts. I hope it also demands that we do away with easy answers where beauty is concerned. Then again, I'm not sure I know what beauty is. Perhaps this is the point. This book would suggest that beauty is not a thing in and of itself but, instead, it is where things touch. Beauty is in points of connection: doctors pulling screaming babies into the world, lovers wanting to press places understood as too taboo to touch, places where words, thoughts and feelings come together.
If instead beauty is a process, then we are all co-creating its existence—or not—each and every day. Here, beauty is not an aesthetically pleasing whole. Instead, beauty asks us to observe, connect, and touch with curiosity and care. In Orang's telling of the story about the bird Homa, who never lands on the ground, instead continuously flies invisibly above, the question of what is beautiful—her presence or her shadow—is resolved only when we accept that "beauty articulates herself in her own language" (p. 106). This articulation of beauty seems the perfect antidote to its opposite found in the language of distraction, irony, and distance. In fact, this stance is taught to so many of us as a strategy for survival, not only as doctors, but also as students, teachers, people in good times but also in times of uncertainty and difficulty. What if we were to instead create different ways of interacting with each other, maybe even by taking beauty—in all its various guises—seriously?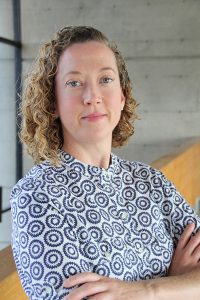 Emilia Nielsen is the author of two collections of poetry. Most recently, Body Work (Signature Editions, 2018), a finalist for a Lambda Literary Award and the League of Canadian Poets' Pat Lowther Memorial Award. Body Work took third place in the Fred Cogswell Award for Excellence in Poetry. Her first book of poetry, Surge Narrows (Leaf Press, 2013), was a finalist for the Gerald Lampert Memorial Award. She is also the author of a scholarly text, Disrupting Breast Cancer Narratives: Stories of Rage and Repair (University of Toronto Press, 2019). Dr. Nielsen is an Assistant Professor of Arts, Medicine and Healing in York University's Health & Society Program, Department of Social Science.