K.S.Y. Varnam
It's like how I feel after too long in the country; there's too much space between. I live in the city for the loud voices and the night chaos. I love trees and open fields and clean air, but I need the bustle of human lives around me too. I need graffiti in the back alleys behind stores and the hugs goodbye on late-night transit.
We still speak across this space. Everything is images now, the letters on the screen and the pixels of our faces. Some part of my mind doesn't quite trust that you are real, that there is flesh eight subway stops away transmitting this flickering face across the electric sky. I disassociate in times of stress; between words you seem as abstract a concept as safety and health.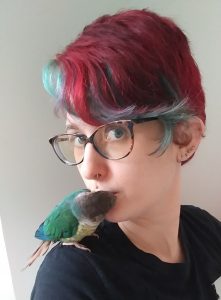 K.S.Y. Varnam is a queer, neurodivergent, and disabled Toronto-based writer, artist, and editor, as well as the founder of The Quilliad. They share a bedroom with their parrots. Their work has been published in several journals, including Hamilton Arts & Letters, Breath and Shadow, CRUSH, and Transition Magazine.