Katherine Abbass
My roommate is a pilot;
we watch the sky for signs of life.
On warm days we sit out on the patio
and stare at the stucco
building beside us,
our neighbour walking her iguana
on the handrail,
giving us a wave,
a cigarette dangling from her
winter lips,
dry and scaly as her
pet.
My dad had a stroke before the pandemic;
my sister was the person who called 911.
We watch my dad like any moment
he will have another.
Sometimes when he moves
for something like a glass of Pepsi
or the remote control,
we gasp
collectively,
because alone does not
exist
anymore.
I was devastated
when I heard
the dolphins
in the Venice canals
were a hoax
and
spent my first EI cheque
on books to be delivered
by the kind gay man
who owns the independent bookshop
that was the first local business
in my city to close.
He arrives curbside
with his corgi, Bob,
who has his own Instagram page
and his own way of handling the
new infrequency of walks
and the insane
generosity
of his
person.
I read Anne Frank's diary so as
not to feel so sorry for myself
and it helps, and I'm jealous
that I can't create when I feel stuck
that I can only create when I feel angry
and though I have the time,
I don't have the energy
to be angry.
I watch my ex-girlfriend
make silly videos
of herself dancing
with a broom.
I cringe at her
desperate attempts
to connect.
And then I like the video
so she knows
she's seen.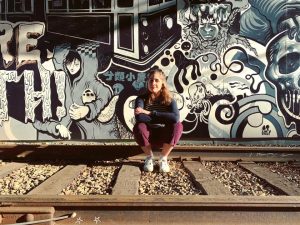 Katherine Abbass (she/her) is a writer and high school English teacher of Phoenician descent. Her work has been published conventionally in The Antigonish Review, untethered, and Glass Buffalo magazine, as well as unconventionally through Edmonton International Airport's short story dispenser and on the labels of Blindman Brewing's ale.