just north of the texan blackland is a home with a stale teapot. an abandoned rain boot is the perfect centerpiece for the bottle cap table. and when it rains, it's where to keep all the petals she'd stuffed in the tissue box. candy wrappers keep us warm. it helps, the crinkling they make. newspaper rustles too much. tin foil doesn't match the coarse hairs. candy wrappers are sweet. they are just right.
rain is the best flavour: all worm and pebble. it always rains on my birthday. on days that are not my birthday, we play on the train tracks with the birds. the smaller birds along the way like to think they're kinder than the hawks and eagles. they are not. their songs are just as vicious. they tell us it changes colour. that far away, it's always burning. they tell us about how the under we sleep in is nothing but dirt. there's so much more above, they chirp.
but we drink tea on sundays just for the smell. when it's time, we burrow into our gold and let the crinkling lull us back to our dreams. your laugh is enough colour for me. they can have their sky. i get to have you and i get to have me under all this everything.
…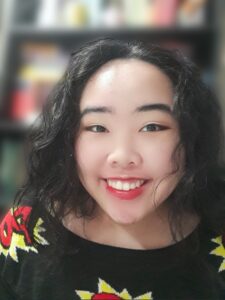 Mikaela Lucido is an in-house writer for Cambio & Co. and poetry editor for Savant-Garde Literary Magazine. Lucido graduated from Sheridan College with a BA in Creative Writing & Publishing. Her work has appeared in Augur Magazine, Ricepaper Magazine, and Living Hyphen. Find her on Twitter (@LucidoMikaela) or Instagram (@mikaela.lucido).