by Andrea Routley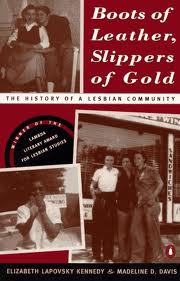 The histories of any marginalised group are a difficult thing to uncover. We can reinterpret literature, search through diaries donated to archives, find some legal records of those convicted of "lewd behaviour" or "perversions" . . . For this reason, many historians rely on oral history to uncover the queer past.
Boots of Leather, Slippers of Gold (Penguin, 1993) is an ethnography of the Buffalo lesbian community/-ies, by Elizabeth Lapovsky Kennedy and Madeline D. Davis. If you haven't heard of this book and are interested in understanding more of lesbian bar culture in the 1930s-1960s North America, definitely see if you can find a copy at some second hand bookstore somewhere in the world, and buy it. Full of oral history, and supplemented and corroborated by historical documents and other research, this book provides lively first-hand accounts of lesbian life during these decades, which is also thoughtfully contextualised by the authors.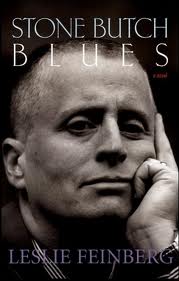 It was a good year for books in 1993, because Stone Butch Blues by Leslie Feinberg was published by Firebrand Books (published again in 2003 by Alyson Publications). This book is often haled as a masterpiece, one which Jewelle Gomez says "opened our eyes to a transgendered hue now recognized among our many colors." Stone Butch Blues is a first person narrative of the story of Jess Goldberg. Born in 1949, we follow the character from childhood, as a member of a working class Jewish family, through rape, forced institutionalization, into the pre-Stonewall dyke bars, police brutality, union strikes, love through adulthood. I was warned before reading this, "Get ready to cry." The violence and fear endured by the characters is heartbreaking, but equally moving is the passion, tenderness, and bravery that persists in spite of it. When I read this, I feel gratitude–not only for the many ways my life is easier now, but for those people that fought so hard to make it so, even when such change seemed impossible.
These stories are, of course, specific to Buffalo, so for those interested in learning about lesbian culture of Toronto, say, you would have to look elsewhere. One "elsewhere" would be Simon Fraser University history professor Elise Chenier's study, "Rethinking Class in Lesbian Bar Culture," which provides an oral history of Toronto lesbian bar life from 1955-1965, and is generously made available online.
The history of lesbian bar culture is closely tied with that of liquor laws, so a search into the laws specific to your province will offer further insights.
These are just a few suggestions, and we always welcome more! If you know of a book that needs more attention on Plenitude, please email the editor: editor@plenitudemagazine.ca.