She _ites my lip just a nip
a fizzing
on my skin
we wait at the _us station
under zeeting streetlights
they crackle like a chip _ag
I envy the susurration
from the am_er halo, want to tell her
"see, that is what is generating the electricity
not your z axis cheek_ones
or the _atting of your eyelashes
it's infrastructural, not _etween us"
and she'd _e nonplussed
never considered us source material
_ecause she doesn't date
girls like me _ut she likes kissing me
and I like _eing kissed _y her
she's a human power plant in thick
lipstick she says she wishes
I were all the way gay
I tell her sometimes I do too
when I get home stum_le
to the _athroom, grind the faucet
cradle water, splash my neck
where her kiss
imprinted. I ru_ the pigment
it doesn't come off
it streaks. I feel Picasso drawn. Cu_ist.
Dissected wrong. The mark looks
like a _ruise.
…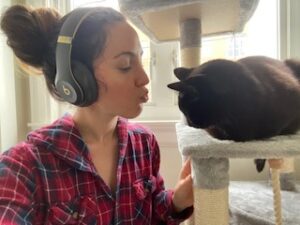 Erin Kirsh's work has appeared in The Malahat Review, Arc Poetry Magazine, QWERTY, Short Edition, Barren Magazine, EVENT, and Geist, where she placed second in their short story contest. She is the former Managing Director of Verses Festival of Words. Visit her at www.erinkirsh.com or follow her on twitter @kirshwords.