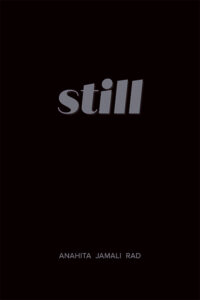 Reviewed by Khashayar Mohammadi

Anahita Jamali Rad, still (Talonbooks, 2021), 112 pp., $16.95.
"It is true, poetry still cannot stop tanks," Ma Yan writes in I Name Him Me, "but that poetry attempts to stop tanks is its reach." It is perhaps pessimistic to begin at the limits of poetry; it may seem counterproductive to peek at the blind spots to illuminate the path ahead, but historically, insurgent poetry has had a knack for leaping into the darkest unknowns at the very precipice to discover new frontiers.
When faced with Jamali Rad's still, the reader faces interesting questions that intend to rewire our thinking: is poetry inherently an insurgent art form, or is "insurgent poetry" a further categorization under which certain poetry operates? Does poetry yield to capital, or can poetry be used to dismantle capitalist machinery?
I had previously read Jamali Rad's For Love and Autonomy, a 2016 collection that set in motion a project further matured in the pages of 2021's still. While there is a common conception of poetry as a subjective soliloquy spoken into the nebulous unknown that will eventually form an audience, what makes still shine brightly is how deeply Jamali Rad's poetic voice is constantly in conversation with what lives outside the book, while remaining self-contained and cohesive.
The major difference between still and For Love and Autonomy is the scholarship that Jamali Rad engages with. While in their debut the poetic voice was speaking to a broader, postmodernist critique of capitalism, in still there is an explicit and ever present interaction with the Diasporic Iranian scholarship of the theorist Jason Bahbak Mohaghegh, whose book Insurgent, Poet, Mystic, Sectarian: The Four Masks of an Eastern Postmodernism was quoted a half dozen times throughout—a conversation that perhaps yields some of the most interesting insights into hyphenated diasporic identities under capitalism.
"this third-world text is/ a ghostly society/ a disregarded unreality" writes Jamali Rad in their poem "THE FORMLESS PRECEDES THE FORM," the title of which is itself a direct quote from the above-mentioned book by J.B. Mohaghegh. I have to tread carefully here, since the intricacies of Mohaghegh's scholarship, as well as its reflections in still and Jamali Rad's implicit identity behind the poetry are what I connected with most as a Diasporic Iranian myself. However, the challenge lies in identifying and perhaps distinguishing between projected identities and introjected ones.
In order to prevent myself from imposing cultural identifiers upon Jamali Rad that they may or may not adhere to personally, I'm going to plead death of the author here, and design a certain path around my cultural conception of a certain "Diasporic Materialism" that flows through still and that moves Jamali Rad's first book (which was poetics from a nebulous early Marxist, idealist, all-encompassing utopia of gender and cultural abolition) to a new era of the body, inevitably gendered and cultured against capital. Through engaging with J.B. Mohaghegh, a Diasporic theorist himself, Jamali Rad explores how the diasporic subject's performative "old country" identity is bought and sold on the market of representation as their bodies are sold on the market of capital. As diasporic subjects, the poetics of identity slackline on the nebulous line between representation of the diasporic self and an "old country" nationalism emblematic of the status quo.
In "A FINE EMPTY-HANDEDNESS" we read "I structure my desire/for desire/ through movements forged/ of former worlds." Here, Jamali Rad speaks of the complicity of material, and the struggle of materialist activism unable to withstand utility in the face of race, gender and class. still becomes both a manifesto and a lamentation of the strategic struggle of praxis. still speaks loudly about the radical maxim of bodily enjoyment. still is language embodied in an elegy for historical martyrdom of the body in the complex machinery of capital. still, then, becomes a conversation with the dead and the dying, the "intellect" uncoupled from the body, in solidarity with the oppressed.
In "WHEN THE BODY BECOMES NON-BODY" we read "the disoriented body slips in and out of materiality, grips the left-behind." Jamali Rad accumulates eclectic ideological and poetic inspirations to create a certain stylistic and conceptual backing for a political stylus that will (in their own words) un-do, un-see and un-write disembodiment in the face of capital from a historical, social, political and sexual lens.
Jamali Rad's aggressive resistance towards lyric is perhaps a reflection of a staunch feminist education, a rebellion against a prescribed system of speech deeply rooted in performative mediocrity of the oppressed against the fragile ego of the status quo. In "A STUDY OF THE MATERIALLY INCLINED" we read "shelves accumulate dust in / a layering of affective stimulus/ I bathe only to forget the body." Here, faced with the depictions of the body laid bare before capital, there is a radically feminist and queer attempt to un-write the post-enlightenment schism between the mind and the body, and its role in the infrastructure of the gender binary, homophobia, class and race warfare.
In short, still is challenging. In this book, Jamali Rad is quiet but deadly, slow but methodical. Their words are sparse, yet potent and the stylistic choices in the book beautifully complement the subject matter at hand. The book, though sectioned, reads as a single continuous poem. The poems, though named and numbered, bleed into one another since the book reads as a project much larger than any section or any poem alone. still is self-made, self-contained and coherent. still is as uncompromising as it is calm, shows a truly remarkable balance of control over material (pun intended) and an insurgence the likes of which are seldom witnessed in Canadian literature.
…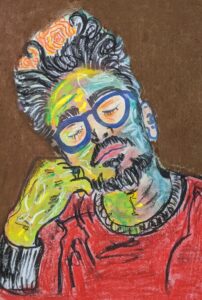 Khashayar "Kess" Mohammadi (He/They) is a queer, Iranian born, Toronto-based poet, writer and translator. They were shortlisted for the 2021 Austin Clarke poetry prize, they are the winner of the 2021 Vallum Poetry Prize, and they are the author of three poetry chapbooks and two translated poetry chapbooks. Their debut poetry collection Me, You, Then Snow is out with Gordon Hill Press. Their second book, WJD is forthcoming in a double volume with the translation of Saeed Tavanaee's The OceanDweller from Gordon Hill Press in Fall 2022. Their collaborative poetry manuscript with poet Klara Du Plessis is forthcoming with Palimpsest Press in Fall 2023.