Flitting tails of firebow minnows—
lilac fibrils streaked on wheelchair cobble—
whipped by the warm pull of august
a jug of orchids passes between palms
their cups marrowed to bone, indecent
gulping against the fold of dusk
as if they have yet to live a life of tenderness
……..of shaking days with doors ajar
……..of arrivals, of billowed lashes wet
…………….with overgrown poolsheds and
…………….oven grease, cd cases and
…………….coffee rings and what
moments await your final arrival?
what do you know, here?
grass-stained hue of old prosthetics—
grains of light on the bench arm—
rolled to a pulp, you must set the fire
its pacemaking hues, its cider domes
……..its shadows that bow and fold
like angels sculpted from cinnamon cloves
arriving, now, through foraged light
you keel on the curve of simian rock
beat fist into bronze, return unblazed
in this pit of galloping, feverish skin
where
is the becoming?
lamplight in a second-storey window—
nurses pouring stock into cast iron pots—
you are a person. you are not a person,
what is this acid dusk if not a person?
fabric-tombed bodies hum
with hill stations chiseled by clouds
their great mechanics groaning
an unsayable, blessed death
……..& you believe this story
…………….but you have been ruptured in speech
……..& you have loved inside these perpetual days
…………….but you have been ruptured in song
& when that distant now arrives
…………….like frost settling on an open wound
…………….you will be ruptured in sleep.
…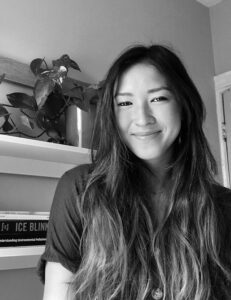 Rhiannon Ng Cheng Hin
(she/her) lives in the Ottawa Valley, traditional territory of the Algonquin Anishinaabe Nation. Her writing has appeared in
Arc Poetry Magazine
,
PRISM international
,
The Malahat Review
,
Gutter
, and elsewhere. Her debut poetry collection is forthcoming with Coach House Books in 2022.