My queer is naming
…….my cabbage patch doll "Madison" after my very best
friend. My queer is my neighbourhood.
……..The shootings. Our small blue house with the white
……..balcony. The dog, bear, bit the nose
……..off Madison. Bit the skin off
me. My queer
is moving,
is eating pizza
……..in the back seat of a silver Saturn. My queer is Tan,
watching lesbian porn with no sound, is telling her,
……..I haven't had my first kiss yet.
Is our practice kiss.
……..Is my brown pencil crayon: I AM NOT A LESBIAN,
……..crying to my parents, kicking her out,
……..ignoring her at school my
queer is Dave. Pushing, yelling, crying at mom, drinking
vodka in plastic cups, puking, crying at
……………………………James calling the police,
……………………………James marrying mom. My queer
……………………………is my pink flower girl dress. My
queer is Amy. Is balancing cups on our new breasts, is
………………………………………………………………………………loving
Damon from The Vampire Diaries is
running around rural Alberta with Starbucks
…………..yelling
………….."vroom vroom mother fucker" at every passing
…………..dick. Pressure to grow. To leave. To drink,
…………………………………………………….and drive,
…………………………………………………….and fuck. My queer
is San. On the phone, whispering. They like me.
Find me sexy. They're good
………..at the sex. Plan next weekend. I need to shave my queer
is crying.
Is the razor.
Moving, changing,
…….sobbing, clean. My queer
is still a virgin. My queer
fucks men. My queer
kicks men out of its house. My queer stood
in front of the stairs, told mom: I'm gay.
Mom said phase, dad said phase, my queer thought:
phase?
My queer dates men. My queer forgets.
My queer loves men. Really. Or doesn't
dislike them
most of the time. My queer
is raped, and belittled, and
studied hard, and was compassionate,
and still. My queer
bought a crock pot. Flirts with unattainable women, thinks:
I don't like my
vagina. How can I (lick)e another? Thinks:
well, I mean, I don't like dick either, thinks:
vroom vroom mother fucker. Comes
out in a group chat, for the second time. Welcome
to the club my queer is a libra,
can't make up its mind.
My queer's love language
is language. My queer will touch, will try
to touch and will
not dislike it, will probably
love it but my queer,
my queer really
wants to talk.
…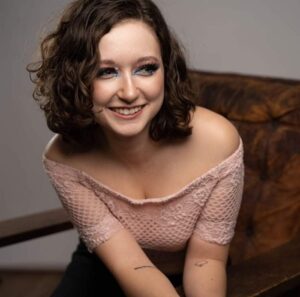 Emma Rhodes is a queer poet and alumna of St. Thomas University situated on the unceded territory of the Wolastoqiyik people. In 2021 she was the recipient of the STU Robert Clayton Casto Poetry Prize. Her poetry has been published in places such as Qwerty, Antilang, Riddle Fence, and elsewhere. You can find her at emmarhodes.net.