Aylin Malcolm
Sell gender to the highest bidder.
Curate crisis. Have
graceless breakdown
over plans made. Undo
the bed, shiver.
A day weighed down
with hashtags: new year,
                            new war.
Splinters of time
and death, mere
partitioning the river. No
one wanted this. We wanted
to push our bikes up and
down the street till sunset.
Crows by the window wait
for someone else, fly
as you arrive. Sure you didn't
send the drones, but
you Spocked the bills
that bought the coffee.
Peeling wall
in a parking lot:
                      ALL
                THIS ART
                IS EMPTY
                  I'M JOE
You shoot the sign
on Super 8.
Forget to touch ground
before leaping again. Carry out/
take away/to go; swap names
like SIM cards. Pronouns
might be plural after all.
Pour emporter. You never learned
to check the weather.
Eat fish. Dream of fish
swimming without skins.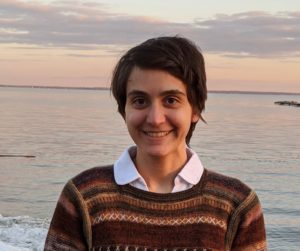 Originally from Tiohtià:ke/Montréal, Aylin Malcolm lives in Philadelphia, on unceded Lenape lands. They are currently writing a Ph.D. dissertation on pre-modern literature and ecology at the University of Pennsylvania. Aylin's work can be found at aylinmalcolm.com.