Abryna Bulford
Nigankwam held my hand
When spring blues hit me.
Sometimes things don't disappear,
But change into something better.
And here I am, whole, as I always was.
What gift was I to give you,
I ask myself, besides healing?
I could not do it all, but only enough.
And that is enough, is it not?
I can look at my body and love it
Without changing it,
Despite who I am, in spite
Of who I'm not. That is enough,
I say, that is enough for me.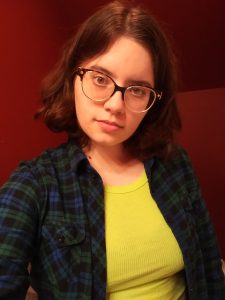 Abryna Bulford is a non-binary Anishinaabe writer from Waterloo, Ontario. They owe much of their spiritual connection to their Indigenous heritage to their elder, who showed them the importance of reconnecting with the community. Abryna explores the intersections of mental health, queerness, and Indigenous identity through the healing practice of writing.