Lucas Crawford, The High Line Scavenger Hunt (University of Calgary Press, 2018), 144 pp., $18.99.
Lucas Crawford's second collection of poetry, The High Line Scavenger Hunt, undertakes to both chronicle and engage with New York City's High Line, a reclaimed elevated train track in lower Manhattan that now functions as a public park. As the book's back-cover blurb explains, the High Line and its transformation into a destination for tourists and locals alike is a story of gentrification, and thus displacement, as the Meatpacking District and adjacent neighbourhoods were once home, a place of work and gathering, for a diverse group of folk: the "early transsexual community, for AIDS activism, kink and leather clubs, trans sex work, queer youth, and more." This is important information to consider for both the learned and uninitiated reader as the project of archiving, recording and turning poetic attention to these histories is all the more complicated when now this very location has become synonymous with "hip" and "trendy," not to mention "family-friendly" and "expensive." Thus, even on the High Line itself, queer and trans histories are always in danger of being effectively erased from public view.
It is in making these histories visible, through poetic documentation and story, where Crawford's poetry truly shines. Here, I'm referring to poems from the first section of the book, "A Bone, A Tooth, A Ghost," where Crawford makes connections between cities such as Edmonton and New York and, importantly, the harms brought to those made precarious in the wake of gentrification of neighbourhoods and, indeed, entire cities. For example, in the poem, "My Death Avenue," they remind us that "Before the elevated High Line was built, / there were so many casualties" that 10th Avenue, with its street-level train, was known as a place of death. But, as Crawford explains, "Death Avenue" is not something of the past, and the speaker of this poem reminds us that "Death Avenue can be Edmonton's Whyte Ave, / flanked with gyms filled with guys stuffed with / smoothies chocked with powdered egg white / and too much / Hoo-Rah hoo-hah" (p. 13). The danger of the various Death Avenues that populate our cities is real: "Death Avenue yokes we freak up to a hundred chariots / with backseat drivers holding quick-draw whips" (p.13). We might all walk the same streets and avenues, but we experience the cityscape differently depending on our social location and the various ways we are made visible or rendered invisible.
This past summer, I traveled to NYC to attend the Lambda Literary Awards and took the better part of a day to not only walk the High Line, but also visit the Whitney Museum and, invariably, window shop while walking the Meatpacking District's cobblestone streets. Over the course of the day I passed two notable storefronts: the first proclaimed Theory—which I later learned is a high-end clothing retailer that now has its headquarters and flagship boutique on Gansevoort Street. So when I later passed another storefront proclaiming Praxis, I had one of those you can't make this shit up moments. This "praxis," as I also later learned, is a commercial art gallery that has been championing contemporary Latin American art in NYC since at least 1987. As I read Crawford's The High Line Scavenger Hunt, I was actively thinking about and troubling out the ways in which a book of poetry might address questions of both theory and practice.
Yet "theory" and "praxis" are words evoked not only in academic spaces, but also importantly in activist spaces when we are challenged to take what might remain abstract knowledge and to instead place it in a practical orientation. Like Crawford, I'm trained and work as an academic where I research, write, publish and teach scholarly writing within the university system. But also like Crawford, poetry is a part of my scholarly and creative practice. So then, how might we explain the role that poetry plays not only in the context of our scholarly work but also, perhaps, in terms of how we might understand praxis, even activism? On the ground in NYC, walking the streets of the Meatpacking District, I was reminded of something I already know to be true: books of poetry can be as well positioned as scholarly texts to address not only research questions, but to also make visible the connection between theory and practice.
But producing creative work within the university setting (not to mention funding structure) presents some challenges, the first of which is how to explain the role of research—a trip for fieldwork in New York City?—in writing a book of poetry. Some would turn to the term "research-creation" to help explain the necessary relationship between scholarly research and creative output. Here, theoretical knowledge is held in generative tension with both reflection and action. Accordingly, when one endeavours to undertake a research-creation methodology, a book of poetry might be part of a larger academic project. For me, what remains key is that a book of poetry created in such a context needs to do more than simply report "the facts" of any one particular instance of research—in the field or otherwise—as experimentation both on and off the page should, somehow, be made visible. All this to say, this is how I understand The High Line Scavenger Hunt best: it is a standalone book of poetry with its own internal logic and concerns but perhaps, and most powerfully, it should be contextualized as one part of a larger investigation at the intersection of architectural studies, trans histories and autobiographical narrative. It is appropriate then that throughout The High Line Scavenger Hunt, Crawford not only researches and documents but also experiments with both form and content.
In fact, one way that they make visible the central metaphor of the book, that of a scavenger hunt, is to include several "found poems." Such poems are ostensibly constructed by taking written material from an unlikely source and then playing with form on the page, to reframe the original text so that it might impart a more nuanced or even contradictory meaning in relation to the original. The first poem, "FOUND: The Mineshaft's Dress Code," works to document the rules and regulations of New York's infamous gay leather bar and, as such, points to attempts to cull corporate lackies and looky-loos. But other rules are femme- and trans-phobic, so what does this point to, an attempt to also cull femme- and trans-identified people? Here, I appreciate the work this poem is doing to grapple with the history of queer places in their complexities, omissions and violence.
But there are moments in other found poems such as "FOUND: High Line Plant Species that Sound Pretty Queer" where the take-away comes a little too easily. This poem, an appreciation of queer sounding plant names, is the sum-total of the poem itself. Yes, "Spiked Gayfeather" and "Forest Pansy Redbud" sound delightfully and queerly subversive. But what to make of this? In light of a colonial naming practice that not only eroded Indigenous names of plants but also brought in its wake violence against LGBTQ people, these plants survived but remain misnamed. To address this, I admit, would be a lot for Crawford to take on and especially so in such a short poem. But this line of thinking led me to wonder—and evaluating the book as whole—if there were moments where the humour also comes just a little too easily? I say this because I wonder when and where wordplay might in fact undermine the more serious and violent history of the High Line. Maybe all I mean to say is, throughout this collection of poetry, where the personal is political, I wanted levity and humour to be fully in conversation with, and tempered by, the more serious aspects of documenting the history not only of place, but one's personal history in that place.
The High Line Scavenger Hunt begins with "Think Like an Architect!" and a "crip" moment of connection (p. 1):
At Columbia University's
"Introduction to Architecture" intensive,
there were two students who had troubles:
—me, fey with gay wrists, summer-flushed and sweating.
—him, buzzcut and ambulating arhythmically
to the beat of a palsied drum
These queer and disabled moments promised at the beginning of the collection are ones that I wanted to have even more prominently situated throughout the book. (I am not, however, calling for a different book of poetry! Not only would that be unfair, Crawford's just published a new collection, Belated Bris of the Brainsick, tackling this theme.) That said, given that the collection includes over 135 pages of poetry, I do wonder if an even more stringent selection of poems might have made for an even stronger collection? Perhaps a more rigorous selection from the manuscript might have provided an opportunity to present a more urgent retelling of the High Line with its trans, queer and "crip" histories firmly at the forefront.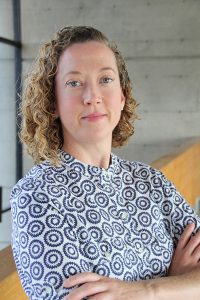 Emilia Nielsen is Assistant Professor of Arts, Medicine and Healing in York University's Health & Society Program, Department of Social Science. She is the author of the scholarly text, Disrupting Breast Cancer Narratives: Stories of Rage and Repair (University of Toronto Press, 2019) as well as two collections of poetry. Body Work (Signature Editions, 2018), was a finalist for a Lambda Literary Award in Lesbian Poetry, the League of Canadian Poets' Pat Lowther Memorial Award and the Fred Cogswell Award for Excellence in Poetry. Surge Narrows (Leaf Press, 2013), her debut collection of poetry, was a finalist for the Gerald Lampert Memorial Award.