by Michael Lyons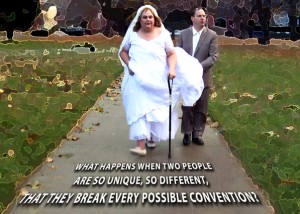 As the saying often goes in the queer and trans community, it's a small world. If you don't know someone personally, you know someone who does, or you've probably seen them at a local event. Martine Stonehouse, the central figure of the new documentary Transfixed, is one of those people for me. I recognized Stonehouse's soft, pretty, classic features immediately—I've seen her out and about in Toronto, especially at the annual Trans March.
Transfixed is an intimate glimpse into Stonehouse's complicated life: she has Asperger's syndrome, a diagnosis on the autism spectrum; she's a trans woman who wants to medically transition; her weight and other health complications are acting as barriers to doing so; she's in a relationship with a straight man, and they want to get married and have a sexual relationship, but he won't until she's had gender confirmation surgery.
The experience of medically transitioning transgender people matters—mainstream understanding of the physical, emotional, and financial cost of transitioning is especially imperative—but it's equally important to explore the stories of trans-identified people without boiling their experience down to the business between their legs. If you've ever seen a story about a trans woman transitioning, you know the drill … the media sensationalizing trans identity, the medical system forcing them to jump through hoops, being misgendered by people who should know better, etc.
While Stonehouse's transition is the core of the film—she even explains how she and her partner want a "normal" life together, whatever that means—the documentary's strength lies in illustrating her as a multi-faceted person with so many intersecting identities. Stonehouse and her partner are quirky and eccentric—there's a delightful scene where she goes licence-plate shopping. I'll say no more.
The documentary has a somewhat wandering aspect to it as it follows Stonehouse around, so in this sense it's an authentic slice of her life, difficult parts and all. Some of it is embarrassingly intimate, some is shocking, some mundane. Some of the loveliest scenes come from Stonehouse's interactions with a friend of hers from grade school and the friend's children, who she considers her own, a chosen family of sorts. There are some really beautiful moments.
The challenge for portraying both Stonehouse and her partner, which she makes reference to in the film, is that the ways someone with Asperger's expresses emotions don't always translate well for a neurotypical person. In this sense, there are some moments with her partner, especially, that are hard to watch. The family scenes between Stonehouse and the kids she raised as her own shine through because she opens up so the audience can see her for the charming, beautiful, and deeply loving person she is. Here's hoping I see her around!
Transfixed playing May 24, 2015 at Inside Out Film Festival, Toronto.