by Michael Lyons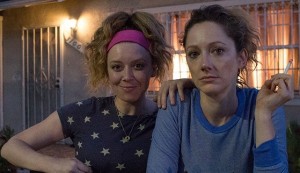 My father has a saying about our hometown: "It's a nice place to be from." In But I'm a Cheerleader and Itty Bitty Titty Committee director Jamie Babbit's latest, Fresno, sisters Shannon (Judy Greer) and Martha (Natasha Lyonne) want nothing more than to escape their hopeless, banal existence in the titular Californian town. Shannon, a registered sex offender thanks to her struggles with sex addiction, is stuck working with Martha, a mothering but emotionally self-sacrificing queer woman, in a dead-end job as a maid in a hotel. Sort of like Sartre's No Exit meets Arrested Development.
When Shannon accidentally kills a slob staying in the hotel, she and Martha know they need to dispose of the body or face jail time. Thus begins a series of misadventures that include a pet cemetery, excessive numbers of dildos, an inappropriate bar mitzvah rap and a cast of weird and wonderful characters.
The cast is exquisite, with Lyonne's doe-eyed, smothering, maternal Martha playing straight man—straight lesbian?—to Greer's beleaguered, hypersexual, sardonic, amoral Shannon. Fresno is not for the politically correct—more on that later—but it has enough heart and charm to get away with being offensive. Aubrey Plaza as a blunt, kickass lesbian fitness instructor and potential love interest to Martha is a total delight; Plaza and Lyonne's chemistry was a welcome surprise. Allison Tolman (from The Mindy Project) and Fred Armisen (of Portlandia) make up a duo of spiteful pet morticians whose appearance is tragically brief.
Fans of Babbit's work will be familiar with her brand of irreverent humour, by turn delightfully deadpan and hysterically ludicrous. There is no shortage of ridiculous situations and snigger-inducing exchanges, though some of the jokes border on questionable. Near the beginning of the film there are some rape jokes, which may raise eyebrows. With the rule of comedy being that nothing is sacred, that's not to suggest writers should censure themselves, as the characters are certainly as despicable as they are endearing, but especially given how touchy joking about rape and sexual assault is—rightly so—the necessity of tossing around jokes about rape seems questionable.
The rest of Fresno is a merry romp of absurdity of a high order. The ending may be conventional, but the journey is more often than not laugh-out-loud hilarity. Babbit's latest film strikes a balance between sparkling, celebratory camp and a terrific kind of black humour. Even more than that, Lyonne and Greer's relationship has the fantastic, familiar quality of siblings, and both characters carry the rundown, desperate feeling of living in a place that it's nice to be from throughout Fresno.
Fresno playing May 23, 2015 at Inside Out Film Festival, Toronto.