Brett Josef Grubisic
1. "Nothing."
In answer to my father's "What are you two doing upstairs?"
(Simultaneously, my sister and I had the experience-based intuition that accurate replies—"Reading Vogue," "Pretending to be Vogue reporters covering catwalk shows," or "Designing and sewing gowns to photograph for Vogue-like Polaroid photo spreads"—would have adverse consequences.)
2. "Chlorine. I swam a lot this summer."
To everyone's "What's up with the carrot top?"
(The 100% truth: "A secret, home-brewed beauty regimen that features weeks of dedicated cotton-ball applications of lemon juice and peroxide can result in tabby-orange hair.")
3. "No, I had to run at full speed just to get here on time."
Asked on the morning the high school annual photographer arrived, a Very Important Event for which I thought I looked too pale and with great lack of expertise and judiciousness at home had rubbed my sister's rouge (either she didn't have foundation or that indispensable product didn't occur to me) over the entire surface area of my face: "Your face is so pink, are you wearing makeup?"
(In retrospect: "Yeah, I am. Too much?")
4. "Nothing."
Instantaneously spat out following the classic boys' change room query/accusation, "What are you gawking at?"
(Anachronistic but closer to the truth: "Your junk, what do you think?")
5. "I'm good, thanks."
To the driver in the white Econoline van. One summer night as I trudged home from my part-time job—my ten-speed having been stolen—this kind stranger pulled over and offered me a homeward ride. At the halfway point he also offered me a blow job. "No strings," he said, as though I'd know what that meant.
("Please God, yes, I'd sell my soul for one" would have reflected my actual thinking.)
6. "I dunno."
To my stepmother, who found an issue of Playgirl while riffling through my gym bag for evidence in her mounting case against me and asked, "What's this?"
(Of course, I'd shoplifted it.)
7. "I left it there on purpose and told him to put that part in the letter to punish you for snooping through my stuff!"
To my father and his third wife upon their discovering—yet again—hidden contents in a gym bag, a secure location that, it turned out, could have been better. They'd read a letter mailed to me from a close friend in a distant town our family had recently vacated. Aside from news, gossip, and jokes, the letter featured a line that referenced the new stage our relationship had entered months before: "I guess you could say we made love."
(The product of quick thinking. I felt proud of that one for years.)
8. "They're great!"
Faked enthusiasm for my father, driving on Main Street and avidly pointing out a woman blessed with the bountiful sort of breasts he made jokes about being buried in instead of a coffin. Perhaps he dreamed of a family plot: father and son, resting for eternity on two comforting sets of breasts.
(See #9.)
9. "It's great."
To my father, when he whisper-queried what I thought of my second stepmother's ample cleavage.
(Message from 2016: "Back then I couldn't comprehend the constant attempts at heterosexual male bonding via objectification of women. Objectification of other men would have accomplished the same goal, though you'd have had to redefine your comfort zone.")
10. "No."
In reply to the guy parked at the side of the road with his track pants pulled down and the seat reclined. "Like whatcha see?" he growled as I walked by and took a peek.
("Hell, yes.")
11. "No."
In reply to my jock step-uncle, who wanted to try on bathing suits and asked me if I thought it was weird to invite me into the change room area to give him advice.
("A bit," I might have said, "but I can deal with it. Anyhow, I've got all day." Really, I would have cleared my entire schedule.)
12. "Nothing."
To my father and stepmother's daily refrain, "What's wrong?"
(The alternative drew me to stock images: a volcano about to erupt, a dam about to burst, the universe before the epic moment of the big bang.)
13. "Yes."
When I returned home after a date with a girl from work my father pulled me aside, wondering if I'd "dipped my wick."
("No" represents a short version of the truth. Longer but true too: "No, but we walked around downtown and chatted about cute guys, greasy-haired guys with cars we'd consider, and her best outfits.")
14. "That's great."
To my father, who promised to get me drunk at a bar and then take me to a whorehouse for my eighteenth birthday.
(A plan for my birthday that wouldn't have occurred to him: champagne in a hotel lounge, preferably Parisian, followed by an afternoon of shopping. I wasn't difficult to understand then, just frivolous and non-heterosexual.)
15. "Yes."
To my father, at the wheel of his red GM pickup. Aghast and sputtering and ashamed and shocked-but-not-really (re: #1), he'd just posed the Dreaded Question—if he'd turned me that way.
(What I'd wanted to say before changing my mind: "Get over yourself, this isn't about you." At seventeen, though, the lie-as-punishment struck me as the preferable option.)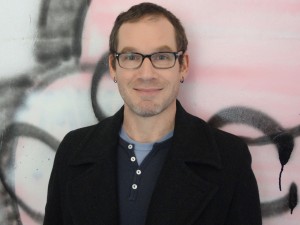 A UBC prof, Brett Josef Grubisic has written fiction including the novels The Age of Cities and This Location of Unknown Possibilities. His current novel project is set in a small BC mill town in late 1980; From Up River, and One Night Only tells the up-and-down tale of two sets of teenage siblings who form a New Wave cover band.