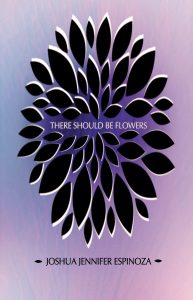 Reviewed by Asam Ahmad
Joshua Jennifer Espinoza's new collection of poetry, There Should Be Flowers, is beautiful and needs to be read by everyone. This collection explores our cultural anxieties around body, memory and space without ever falling into a clichéd romanticism or idealism. Espinoza is a poet who is unblinking in her ability to record tumultuous and terrifying experiences of the body, in particular a trans woman's body in a world that simply does not want this body to appear or even to exist.
In these poems, the body isn't so much a preoccupation but a signifying force so unwieldy that it becomes almost impossible to do anything other than pay attention to it (and occasionally look away if only to keep looking back). Espinoza has an uncanny ability to distill moments of sublime beauty or terror, often a dread-inducing combination of both at the same time, to astonishing affect.
Intimacy with other bodies is almost nowhere to be found in this collection. The deepest intimacy the speaker craves is intimacy with her own body, an intimacy that is clear-sighted and hard-earned, an intimacy that refuses to paper over the anxieties of having a body in the first place:
I forgot where I was.

It was June 1st

and the air was dying.

I had empathy for the dirt

As it consumed

The grass.

I played games on my phone until the world became

a fogged up window.

Where was I again.

The body, yes. The body.
In these poems the body is, amongst other things, a cipher, a desert, a source of metaphysical dread, a ruin—but most importantly, it is an ontological fact that can never be forgotten. There is no such thing as not having a body. There is no such thing as escaping the demands of the body, the demands the body places on you simply for being in a body.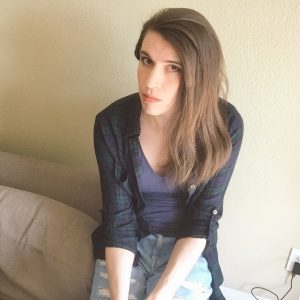 There is a myth that you will listen to
about your own body
that will map you into existence
[…]
The idea is to create a self
Through the destruction of another self
But it never works out that way.
These lines point to the difficulty of seeing oneself refracted in the ways one imagines oneself to be when the body does not correspond to the self. It also points towards the difficulty of constructing a (new?) self when you have been socialized in a certain kind of self that you never wanted to begin with (in another poem the speaker calls herself "socialized dead thing"). Espinoza points toward the palimpsestic nature of being alive in a trans body: at one point the speaker states, "I don't keep a diary because I want to forget everything," and "Nothing can be retained if I am to survive." Memory, the act of remembrance, renders life unlivable: to forget is to be able to go on living. And yet the irony of course is that the body, by the very nature of existence, can never be forgotten, and the body itself is the very source of all of this dread.
In the poem "The Public Reaches," the symbolic and the real are made to occupy the same place:
The public reaches into my head

and drops rocks, leaves, tow trucks,

old white ladies who stare, grocery stores

[…]

a cashier who calls me "sir," a tornado

over the road, a truck flipped on its side,

all the dust in the world
Here, the gaze of society, the way the symbolic reaches into the speaker's mind, becomes synonymous with the power and force of the physical world: rocks, a tornado, all the dust in the world. It is as if the hard gaze society refracts back to the speaker is as calcified and static as these material things, natural things that will change form but will always remain immutable in some way.
There is a knowing earnestness in these poems that at times catches one completely off guard, while at other moments it feels like it could have used some judicious editing. "I can do whatever I want / except drive on freeways / walk alone at night / or love myself." When it works, it is like a punch to the gut.
There is a deep and abiding sadness that runs throughout these poems. It is a sadness dotted with points of self-ironizing humour, but the sadness remains palpable throughout, and it is a sadness commensurate with the state of this world.
How long can I keep tricking you

into thinking what I'm doing

is poetry

and not me begging you

to let us live?
Reading these poems, one feels that it is possible to find connections and resonances that were hidden in plain sight, even if the world continues to insist on being such an awful place. We should be grateful that Espinoza writes to bring these resonances to light.
Joshua Jennifer Espinoza, There Should Be Flowers (Civil Coping Mechanisms, 2016), paperback, 100pp, 15.95.
Asam Ahmad is a poor, working-class writer, poet, and community organizer. His writing tackles issues of power, race, queerness, masculinity and trauma. His writing and poetry have appeared in CounterPunch, Black Girl Dangerous, Briarpatch, Youngist, and Colorlines. His poem "Remembering How to Grieve" can be found in Killing Trayvons: An Anthology of American Violence.