Nat Marshik
1.
I took an heirloom sip in thick
pine needles, feet sunk in forest
hands cool around the blue bottle
with its flip top and old timey label
and tasted with my twelve years
the sweetsap pioneer story—fascinated
by that emaciated winter, death in the high snows
the icy unsympathy of Cascade crags
and the rumour of the starving niece
who they say ate her uncle.
If I had known, then, of the Harrison Rose brought west
by a girl and her grandma, I would have added it
to my inventory—of bonnets I would wear,
bow prim under chin—of shawls, of quilts, of laced boots.
I would have had a girl's certainty:
that on the wagon train, eighteen fifty-seven,
it would be me with the cut rose
stuck in a potato, leaning over mid-desert
to spill precious drops of water, my hair
windbrittle, whites of my eyes seared red.
2.
Today I have a lover with no room for me, no patience
for this body, its colonial custom, no time
to watch me thaw the frozen empathies
take tinctures against a long white childhood.
I sail through this barbed country cushioned.
Nothing to add at parties with his friends
just limpid smiling solidarity. I understand their jokes
but I don't laugh. Then at solstice, disinvited
from the fire and the sausages, I wonder,
crumpling, if race means losing, this once.
3.
So I choose sorrow—
at how riven we are, how missing—
and trace it to some sad fact
like this: that I was happy
in the height of nostalgia at Donner Pass
and earlier in rosy-cheeked Oregon heat.
I have a photo to prove it: a girl
pleased, plum, perky
all polka dots and hat flops
feet dangling in the covered wagon.
I planned to be that pioneer child with the soul of an artist
thrilled by sudden sunsets dropped from desert plateaus
by the brown, blue, violet laps of Western hills
and by the names – Modoc, Umpqua, Klamath, Shasta – hundreds
that would be licked clean by the tongue of Oregon.
Yes, hardship was delicious to me, a dream of cocoa,
rich and bitter, a shoo-fly pie—that old sugar, floured apron—
and there was something female to it,
all tuned muscle and enameled cheekbone.
4.
That early romance turned revolutionary,
but I still admire a kind of torment. Queer now,
anarchist, I'm riveted with whiteness
and how it intercedes, imperial,
into the love I clutched at for seven years.
In that story, there is (there was)
a boy with glistening hair,
with scars and fragile hands,
who I made love to at the edge of the bed,
my knuckles smoked by the fog of his escape.
What he needed was not me, exactly
but skin, the honeyed touch of brown and brown,
a language long fallen from his lips.
5.
But race is not only a story
about the black haired boys
who don't love you that way anymore.
It's also a story about a girl with sun-mined, darkening hair,
a blue-eyed child born to a sour contract and
a vacancy in the hotel of her chest and money
where an ancestor should be.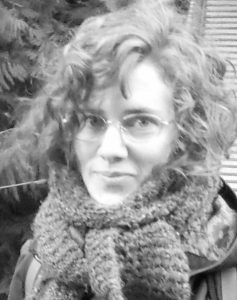 Nat Marshik is a writer, translator, tap dancer, and visual artist born and raised in North Vancouver on the unceded territory of the Skwomesh and Tsleil-Waututh nations. Nat holds a BA in gender studies from McGill University and has studied poetry under the mentorship of Arleen Paré through Plenitude. She has co-published a book of poetry and photography entitled Outlines, with Rachel Marshik, as well as several zines and the chapbook (face to the wind). Nat has read at REVERB: Queer Quarterly Reading Series in Vancouver, BC. natmarshik.tumblr.com