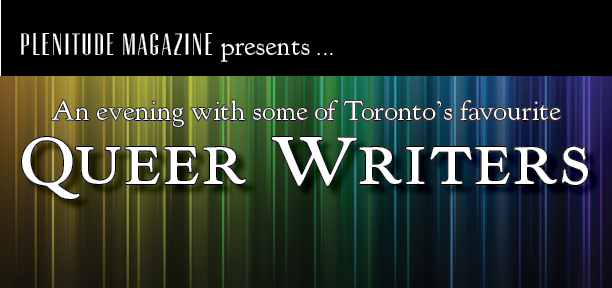 We have teamed up with The Steady Cafe, Glad Day Bookshop and these fantastic queer writers for another sure-be-be excellent reading.
Hear the latest from these exciting authors — and preview their forthcoming work!
Thursday, June 12 | 9 pm
The Steady Cafe
1051 Bloor Street, Toronto
Join the event on Facebook for snappy updates and photos and things that are shiny.
Readings 9-10 pm, but come early for dinner, drinks, that thing people do when they're not on their phones, what is it called … talking to each other!
VIVEK SHRAYA is a musician, filmmaker and writer. His book What I LOVE about being QUEER is currently a Lambda Literary Award Finalist, and his most recent film, Holy Mother My Mother, came out this spring. I think he is super cool — and so does Issue 4 contributor Lukas Bhandar in his essay "I Love My Hair/I Hate My Hair," so we tweeted at Vivek. Looking forward to meeting him at the Lambda awards June 2!
TREVOR CORKUM is the guest editor for Issue 4 of Plenitude. He first caught our attention with his Journey Prize-shortlisted story, "You Were Loved," which appeared first in The Malahat Review. Then we published him in Plenitude. Then we asked him to edit an issue.
DANI COUTURE is the author of three collections of poetry, including the recently released YAW from Mansfield Press. Her novel, Algoma, was published in 2011, and she is also the literary editor at This Magazine. People have been telling me how fantastic she is and I'm stoked that she will be joining us!
SHAWN SYMS has written about sexuality, politics and culture for over 25 years in more than 50 publications. He's the author of the short-story collection Nothing Looks Familiar (coming this fall!), and he edited the first book of literary fiction about social media, Friend. Follow. Text. Shawn's latest claim to fame is that he wrote "the best opening line of a story ever," according to the Twittersphere. Presenting the Best Opening Line of a Story Ever: "Think I should let him pump off in my mouth?" Yay Shawn!
MAUREEN HYNES book, Rough Skin, won the League of Canadian Poets' Gerald Lampert Award for best first book of poetry by a Canadian. She has also published Harm's Way and Marrow, Willow, with a fourth to come out next year. Maureen is poetry editor for Our Times magazine, which is this amazing pro-union labour magazine writing about workers' rights and social justice. Very happy to be hosting a reading with Maureen!