Carter Vance
Coming down with something's case,
fever flush of card suits taken
too literal, whiskey-faced haggling
with diner shop case radio dials,
dusty countertop linoleum
for a place to rest comforted hands;
I am no longer in darkened
rooms with chalk sketches
or star charts searching June
skies for dusk.
The road polishes, near-reflecting black
of graceful shadows leaping grandly
from pulpit page to dreaming ink.
It carves a winding gold river band,
a miner's lung of bespoke ring fingers
from the sketch chart physician's
notes we made of each other
(flopping haircut, skin strawberry milk shade).
Whirring, fan clatter cuts speech
to hung ribbon strings from ceiling,
to adolescent party paper chains,
shedding their old tones
for something stronger played:
electric, with feeling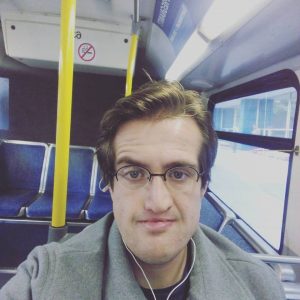 Carter Vance is a student and aspiring poet originally from Cobourg, Ontario, currently studying at Carleton University in Ottawa. His work has appeared in such publications as The Vehicle, (parenthetical) and F(r)iction, amongst others. He received an Honourable Mention from Contemporary Verse 2's Young Buck Poetry Awards in 2015. His work also appears on his personal blog, Comment is Welcome.