Erin Kirsh
Everyone's a philosopher and I miss comedians.
Everyone's got a theory and I got a headache.
The selected world lives in a device that lives
in my pocket with all the other change.
It's gathering lint. It's tearing my jeans.
It's cutting my hand when I try to tuck one in
for warmth. Everyone's got a good argument.
Everyone's got someone to blame.
Everyone wants to be the voice of the generation
and now the position is open. Leonard Cohen died
on November 10th for my friends
and November 11th for me
and that's not a metaphor
and that's not a coincidence.
Even the temples couldn't help me today.
Even the foxes had misfit keys.
Everyone's got a remedy
but I don't know my symptoms.
Everyone's a doctor and a nutritionist and a saint
and I'm just a convenience store again.
Even bullet trains can't carry me today,
they put me to sleep and to sweat.
Everybody's an executioner and I'm a clumsy-tongued lawyer
in a polyester suit. Everybody's right and all I am is tired
and a little itchy. The selected world
irradiates my pocket and suggests next words for me.
Did I mean entropy? Did I mean kingfisher?
Did I mean sorry? I don't know.
Seems anyone's guess is better than mine.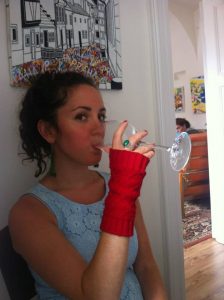 Erin Kirsh is a writer, performer, and funnyman from Toronto. A Pushcart Prize nominee, her work has been published or is forthcoming in The Malahat Review, EVENT, Geist, PULP literature, and The Molotov Cocktail, where she won the 2017 Shadow Award. Visit her at www.erinkirsh.com.