Rob Colgate
Staring out the drippy window. Wanna go
to the top of the rock. So happy up there
boy so happy so happy.
Want the river up there with me. Wanna be alone. Not
my boyfriend.
Covered in slimy nacre so the dirt is worth it.
All of this used to be colder.
Rain on the fire
escape, street corner, jumping off
the skyscraper, the dock.
Dark outside in the daytime. Not so exciting
sleeping with no rain.
Not so exciting raining when everyone already has been
washed away. Dammed
up river.
Soft hands forever. Together
we are a flooded library that can't be salvaged.
Together we are
a waterlogged notebook
that no one can write in
but salamanders find their way between the pages,
leaving notes, boy don't you do this,
you know
how the soaked clothes burn you.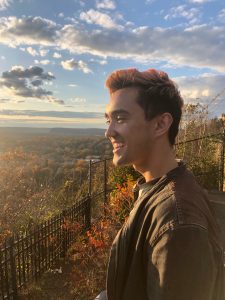 Rob Colgate is a poet from Evanston, Illinois. He holds a degree in psychology from Yale University and is currently pursuing his MFA with the New Writers Project at UT Austin. He is the author of the chapbook So Dark the Gap (Tammy, 2020) and can be found online at robcolgate.com.