Barrie Jean Borich, Apocalypse, Darling (Mad Creek Books / The Ohio State University Press, 2018), 120 pp., $18.95.
Nominated for a 2018 Lambda Literary Award (Lesbian Memoir/Biography category)
I remember learning, a few years ago, that Sappho's poetry wasn't written just to be read from a plain page—her poems were lyrics and songs, performances. I find it bittersweet to imagine her work in all its dimensions, and to know that so much more is missing than what is implied by the hollow spaces, gaps on the page where words have been lost over time, haphazardly neglected or willfully destroyed.
When I began reading Apocalypse, Darling, by award-winning author Barrie Jean Borich, I was reminded of these thoughts with a vengeance. I won't say that Borich has written a "page-turner" of a nonfiction narrative, or that her prose "reads smoothly," because any paper-bound descriptor could only demean this book. Apocalypse, Darling dances. It sings. It has taste and texture, like salt and sugar dissolving on my tongue. It whistles like a metal screech or wind on a lake. I spent the first half of this slim volume wishing I could truly hear the words rather than trying to read them for their sounds as well as their images. In the second half, I gave in and read aloud, savoring the movement and rhythm of passages like this:
Some mild peace may be all I seek, between the Skyway and the Dunes, some fragment of evidence, what human nature still tries to build, fails to build, tries, a hope not for April, but for May, lilacs bursting into plump bouquets, new growth a smell, not sweet, not salt, not water, not steel, not scrap. Not just scrap. What was the old is now old-and-new. (68)
When I listen for the rhythm, the lyric, the movement and the feeling of the words, as well as what they're simply saying, I start to catch a glimpse of how the dimensions of Borich's work unfold and unravel through the book, creating something so much grander than text alone.
It makes sense that such a poetic, unabashedly literary book would have been inspired by a classic poem—Borich begins her notes on the text by saying "certainly it is apparent that I have, in this work, borrowed from and expanded upon the language, tone, and structure of T.S. Eliot's long-poem sequence The Waste Land" (87). She pulls her five section headings and many chapter titles from the poem, and fragments of Eliot's language appear throughout the book. But her style of the prose doesn't ever read like she is trying to emulate Eliot's style. Borich is not assimilating her work into Eliot's canon so much as she is reshaping that canon and bending it to her will. These are not Eliot's wastelands, but Borich's.
The story in this prose-poem-novella is deceptively simple. Borich and her partner Linnea return to the American Midwest along with Linnea's siblings and their families to witness their father's marriage, at age seventy, to his high-school sweetheart, the girl he loved before he married the mother of his children. Another writer might have struggled to fill even Apocalypse, Darling's brief 90 pages on the subject, but Borich commands the space, exploring grief, joy, estrangement and chosen family with depth and sharp, off-beat humour—all against the surreal backdrop of the elder newlyweds exchanging wedding vows before their adult children and grandchildren. As the outsider, Borich, having never been acknowledged by Linnea's father as his daughter's spouse, offers a full accounting of the event refracted through the remove of queer erasure.
The tension between Borich's and Linnea's queerness and the father's subtle arrogance and vanity provides fodder for some observational zingers. Consider the chapter titled, "The children's crimes, according to the father, as imagined by the daughter-in-law he does not acknowledge."
And similarly when she must resist her mother's wishes for her normativity:
The one time, years ago, that I asked my mom and dad to look into PFLAG they said they were too busy with the Knights of Columbus. That was right after I got my first tattoo, the growling leopard on my right upper arm, which my mother hates and led her then to comment that she'd rather go to a meeting of daughters with tattoos. She said it with that South Chicago cut in her voice, which she means to be funny, which I've inherited, which then I give right back, the same, twist and cut, when I say, Mom. The name of that tattoo meeting is PFLAG. (14)
If the soul of this book is its language, its heart is Borich's literary honesty—she knows her places and her people, and what she doesn't know, she acknowledges plainly and without attempts to conceal or invent. She sets one chapter of the book "inside an inaccurate Indiana fantasy, 2008" (57), and frames the next one as being "imprecisely recalled with undisguised bias, and without approval from her spouse, by the daughter-in-law the groom has not yet acknowledged" (59), playing with the subjectivity of her experiences as she tells a truth, not the truth, and makes sure readers know the difference. By distinguishing things that were and are from could have been or wished they were, Borich allows us to see the world through her eyes without claiming a universal perspective.
This honesty comes conspicuously into play when Borich shows us her vision of the Midwest, exploring her familiarity with, and alienation from, these landmarks and landscapes. When she writes about heading onto a stretch of highway she remembers from her youth, it is with the expertise of someone who has been shaped by that place:
Linnea is driving. I slap her on the shoulder as the Skyway rises over the centerfold. I hadn't expected we'd motor into such familiar and unfamiliar cleaving. We are driving toward a gathering of her side of the family, but driving through the Old Country of mine.

When I was a teenager I often ended up on the Skyway by accident, veering onto the wrong exit south from the Loop, usually late at night, my car full of friends, likely drunk or high, when the yellow streetlights cast a dingy pall over the toll bridge gates, suggesting the gateway into Hell or at least Purgatory. Once you enter the Skyway in south Chicago there are no exits until Hammond, Indiana, so those lit-up CHICAGO SKYWAY letters over the toll plaza cause my stomach to tighten. Where am I? Do my friends think I'm a bad driver?

How do I get off, out, home? (5)
Reading Borich's descriptions of the landscape around this part of Lake Michigan with the dunes and old steel mills and factories, I was returned to the place where I spent a significant part of my life.
Not quite the dream wedding locale, the broken granaries with stained outer walls, the unwound skeins of train tracks, the rusty barges, the scrap metal mounds, the dirty water, the russet piles of raw metals, the cylinders and conveyors of the blast furnaces, the peaks of fire torching out the mouths of steel towers.

But also the peacock walls of USS Gary. Also, Darling, the undulation of the big lake. (20)
I may not be able to place the exact scrap heaps and peacock blue-painted buildings Borich writes about, but she is so incisively specific in her descriptions that I recognize them and know them to be true.
Borich is an associate professor in the English Department and MA in Writing and Publishing Program at DePaul University—and this background comes through clearly in her notes on the text, where she delves into how her work joins other intertextual readings of The Waste Land, provides a few word definitions across geographies and regions, recounts a hyper-local history of the U.S. steel industry, and gives a pronunciation guide and etymology for the place where much of the book is set (Calumet, pronounced "cal-you-met"). This final section brings out another dimension of historical facts, as well as an exploration of how, due to steel industry pollution, the Calumet region is often counted as "one of the worst environmental disaster areas on Earth" (89)—making The Waste Land parallels particularly fitting. But Borich also finds opportunities for hope and renewal here, describing how "the Indiana Dunes National Lakeshore names the Lake Michigan sand dunes as the birthplace of American ecology, due to writings on the area's plant life by late 19th-century University of Chicago botanist Henry Cowles" (89).
To me, Apocalypse, Darling is Sappho meets T.S. Eliot meets Leonard Cohen, and it is a truly remarkable combination of styles and influences with Borich's insightful outlook on her world guiding it all. By the last page, I found myself wanting more in the best possible way—not wishing that the story had been stretched thinner but looking for the next thing that feels and sounds like Borich's writing: story, song, prayer, joke, memory, performance, and so much more.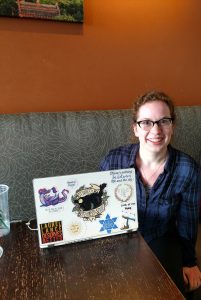 Julia Peterson (she/her) is a queer Jewish journalist currently based in Regina, Saskatchewan. As a writer and translator, her work has been featured in INK Magazine, The Carillon, StarTrek.com, and Reading in Translation. She absolutely adores musicals. Find her on Twitter @hark_a_julia.