Joshua Wales
You plead to see my toaster every day and I make you count down before
I flip the camera round to let you see: Three-Two-One Toaster! Raise
the stakes is rule one of distance cinema. It's just a dented chrome four-slicer
but you find in its regularity a precious metal that only a two-year-old's pan
can sift, a glint too keen for sanded adult eyes. Before, I'd feel your febrile breath
on my neck and wouldn't sob Thank God with each and every rise and fall.
In the future, we'll watch a classic film called The Land Before Time,
when your folks have date night and you're left with just me: your Josh,
your vice-parent, your non-dad, the queer-spawning cis male source
of your tongue roll. The film's prehistoric land will rend baby dinos from
their older kin and I'll murmur of the time our own ecosystem-beyond-taxonomy
was razed virulently nuclear. We two were rent—just waving flickers in crystal.
I'll drone on as we watch the film, (you'll yawn, losing interest in this prehistory)
recounting how it felt as though a vice of time was flattening me
into translucence, as ineffective as the balding, blue-ish playdough effigy
of me, which you commissioned when, at last, you lost hope for the humming
human tremble of my beating neck. But for you, the only vague shimmering-up
from that chasmic time: a faint blush, a long-distance romance with a toaster.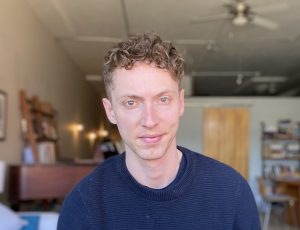 Joshua Wales is a writer and palliative care physician in Toronto. His writing has appeared in the Globe and Mail, The New England Journal of Medicine, JAMA, on the CBC, and forthcoming in Grain. He was shortlisted for PRISM international's 2020 Jacob Zilber Short Fiction Prize.