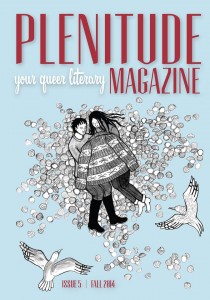 Plenitude Magazine is now entirely online and accessible to everyone, but don't miss out on the fantastic work that appeared in Issue 4 and Issue 5! New stories from Shawn Syms, Leah Horlick, Ashley Little, Mette Bach, Lukas Bhandar, Shannon Webb-Campbell and more!
From medieval same-sex marriage, to the Continental in '65, the Gay Games of 1990, ground-breaking poetry confronting violence in same-sex relationships — get theses two issues now for your e-reader, tablet or computer (epub and pdf) for only $5.
Your subscription means a lot more than five bucks to us, too. If you want us to send the issue as a gift, just make a note of the recipients email when completing your purchase (there is a space for that).
Get Yer Digital Subscription Today!