Johnny Alvarez
When I first read it, I think it's a mistake. I think I'm groggy, mentally displaced, as I often am at this hour. I open it in bed, staring not at the envelope as I tear it, but out my window to far-off Baker Beach. It's a shitty, grey Bay day, but a few persistent souls have found their way down to the low-tide water's edge, holding their collars tight against the unforgiving Pacific wind. I can see them, just dots milling about far away. I need coffee bad, but I'm out of Bustelo grounds. Eventually I'll drag myself out of the house and drive somewhere, but not right now. I have this stupid letter to read.
I hardly register the words that do make sense much less the ones that don't. Surely it's a typo, a computer error. Though, can an entire sentence be considered a typo? Do humans even write these sorts of things? Aren't they automated and processed, mass produced and churned out like stamps? Or Laffy Taffy? They certainly follow the credence of something inhuman, something incapable of understanding the myriad reasons why we all succumb to failure.
The letter is addressed to:
WILLIAM HERNANDEZ
8919 PERSHING DRIVE
SAN FRANCISCO, CA, 94129
That's me. It's addressed from:
EMPLOYMENT DEVELOPMENT DEPARTMENT
PO BOX 25232
FRESNO, CA, 93722
That's them. This all makes sense. But then I keep reading:
"YOU ARE NO LONGER ELIGIBLE TO RECEIVE BENEFITS UNDER CALIFORNIA UNEMPLOYMENT—"
Okay, stop yelling at me.
"—INSURANCE CODE SECTION 1253A BEGINNING 05/05/19 AND ENDING WHEN THE DISQUALIFYING CONDITIONS NO LONGER EXIST AND YOU CONTACT THE ABOVE OFFICE TO REOPEN YOUR CLAIM. YOU FAILED TO RESPOND TO THE DEPARTMENT'S REQUEST TO PROVIDE COPIES OF DOCUMENTS THAT WILL CONFIRM YOUR IDENTITY AS REQUIRED BY REGULATIONS. I LOVE YOU. YOU DID NOT PROVIDE A COPY OF A GOVERNMENT ISSUED PHOTO IDENTIFICATION…"
Did you catch that? Let me go back. No, okay, you saw it too! I LOVE YOU. As plain as day, as bold and direct as the moment the words were created. As vivid as the first time they left the mouth of one person and floated to another. I LOVE YOU. Who loves me? The Employment Development Department? I'm pretty sure they just got done berating me like some petulant, unruly child. Were they trying to make me feel better, in between those cutting, didactic words of punishment? YOU'RE A POOR PIECE OF TRASH but we love you BUT WE'RE NOT GOING TO PUT UP WITH YOUR SHIT ANYMORE.
I want to write back. I want to respond, in some way to indicate my acceptance of this amorous proclamation. But I don't know who to send it to. Something tells me if I respond directly to the Employment Development Department, they'll be like, "Okay… but where's your goddamn proof of identity?"
Maybe I have to code it. Maybe I have to do what my secret admirer did and hide the humanity within the inhumane. All that harsh, all-caps Courier text is so dismaying, so disorienting, it's easy to miss a tiny three-word confession hidden within. Maybe I can do the same and hope the message makes it into the right hands.
In writing classes, they always tell you to mimic the ones you admire, copy their style and then find a way to adapt it to your own voice. I have to admit, the Employment Development Department's prose is, in its own way, beautiful. Sparse, neat, straightforward in exposition, evocative in tone, powerful in message. So, I give it a whirl.
"DEAR EMPLOYMENT DEVELOPMENT DEPARTMENT,
I ACCEPT THAT I AM NO LONGER ABLE TO RECEIVE BENEFITS UNDER CALIFORNIA UNEMPLOYMENT INSURANCE CODE SECTION 1253A BEGINNING 05/05/19 AND ENDING WHEN THE DISQUALIFYING CONDITIONS NO LONGER EXIST. I REGRET TO INFORM YOU THAT THE DISQUALIFYING CONDITIONS WILL, IN FACT, CONTINUE TO EXIST. AT THIS TIME, I AM UNABLE TO PROVIDE THE DOCUMENTS HEREIN REQUESTED. I LOVE YOU, TOO. I THANK YOU FOR YOUR FIRM HAND AND EXACTING DETERMINATION WHEN IT COMES TO THE FINANCIAL SECURITY AND SURVIVAL OF YOUR FELLOW AMERICAN. WE ARE WORTHLESS, WORTHLESS SCUM WHO DON'T DESERVE YOUR MONEY. HAIL, SATAN!"
I put my tidy bit of flash fiction in the mail that very same day. What a rush to type in all caps for utilitarian purpose rather than as an expression of rage. And yet, to express rage in a new way. With all my seething, capitalized letters crammed in margin to margin, how could any heartless government drone possibly notice a four-worded return of affection? It was genius. Some of my best work yet. Maybe they'll like it so much they'll publish it in their office zine, Imperialist Slog Quarterly.
I wait over a week for a response, eager, hungry for the next chapter of our story. Me and my admirer. I imagine him—surely it's a him—sitting at his desk, buried somewhere left of centre in a boxy, poorly air conditioned office where the water cooler is the brightest decoration and it smells faintly of wet denim. I picture him slurping his Keurig coffee, maybe chewing on an egg bite from Starbucks as he passes the time pretending to type emails. I imagine that he's gorgeous, of course, but in a way that the average eye wouldn't pick up on right away. The kind of gorgeous that is unearthed, slowly, through attention, through conversation, through prompts that incite his secret genius, ignite his hidden passions. I imagine the sparkle in his eyes when I ask him what his favorite episode of Gilmore Girls is, or what his favorite Magic Tree House book was as a kid, whether he's a Britney or a Christina. I imagine that when we finally meet, he'll take me in his smooth arms, he'll lay me down on the creaky twin bed in his north Fresno duplex, and he'll fuck me sweetly, tenderly, gently, and then hard, intense, rough, but only when I ask him to.
I get my response on Tuesday, eight agonizing days after sending mine. I rip the envelope to shreds, starved for answers. I read fast, absorbing every word, desperate to find that one torrid morsel.
"AN OVERPAYMENT IN THE AMOUNT OF $2,469 HAS BEEN CHARGED TO YOUR ACCOUNT IN CONNECTION WITH A CLAIM FOR UNEMPLOYMENT INSURANCE. BENEFITS WERE PAID FOR A PERIOD FOR WHICH YOU WERE DISQUALIFIED UNDER CODE SECTION(S) 1253A. YOU ARE LIABLE TO REPAY THIS INFRACTION. FAILURE TO DO SO MAY RESULT IN LEGAL ACTION. WILL YOU B EMINE? MAKE YOUR CHECK OR MONEY ORDER PAYABLE TO…"
I leap in the air with joy. Not only did I get through to my long-distance lover and got a response, but he made a spelling error. The letter E in the word BE is disconnected from the letter B, stuck onto the word MINE like a leech. What a beautiful human mistake it is. I can't take my eyes off it, this undeniable proof that a heart lives somewhere behind the cold blackness of adjudicatory minutiae. My baby. My love! He has such a way with words.
That afternoon, I pleasure myself while reading CODE SECTION(S) 1253A. I figure it's time I actually wrap my head around my legal mistake, but all the dry, methodical jargon gets me unexpectedly randy. I cum in spurts all over my delicious love letter. I fold it back up and tuck it into an unused envelope and place it in my desk drawer for safe keeping. A gift, a token of my love's love for me.
But then I grow sad, as I often do post-orgasm, though this sadness is different. This sadness comes from the fear that I may never meet him—this man, reaching out from the slop trough of desk-job malaise, hoping for a warm hand to pull him to safety. Could it be me? Should it be? The one to save him, the one to bring him home and make him mine?
Surely, I had to. How could I not? My heart pounds in my chest at the thought of meeting my lover, poking my head over his cubicle wall, surprising him. Surely when we lock eyes, he'll know who I am. They had to have some sort of database with all our pictures next to our social security numbers, our birthdays, our weights, our heights, our cholesterol levels, the date and time we lost our virginities. He'll see me and know I'm there to save him and he'll jump out of his hardback swivel chair and into my arms. I'll carry him from that wretched office, like a prince with his bride, and we'll sail off into the melting, California night, the desert breeze playing through our hair, our fingers linked tightly together over the centre console.
I pull up Google Maps. It's only a four-and-a-half-hour drive to Fresno. I check my watch. I could be there by dinner.
What better shit have I got to do? It's not like I have a job.
◊ ◊ ◊
It's after 5 PM when I get to Fresno. The air conditioning in my car is broken, so when I arrive I'm red-faced and damp with sweat. I look around at this town, this weird unknowable place that seems to be on every bit of generic, government-issued mail. If it weren't for the palm trees, I might be back in the Midwest. Blocks and blocks of nothing stretched out under a relentless sun. Subway, Dominos, Burger King, Jiffy Lube, repeat. Subway, Dominos, Burger King, ooh, Valvoline—switching it up.
It doesn't take me long to figure out where I'm going. I stop at a few gas stations, ask a few questions. It seems the great big known secret here is the real address of the Employment Development Department. It seems I'm not the first out-of-towner to come asking around. I know why they only give the PO Box—it's to keep people from doing exactly what I'm doing. But my mission is for love, not for anarchy. I'll save that for next time.
A half hour later, I pull into the building's parking lot, finding it in the middle of an expanse of empty land at the edge of town, surrounded by desert and mountains in the distance. I sprint from the parking lot to the glass front doors, terrified that they already closed for the night. The building is wider than it is tall and nondescript. Nearly windowless, that off-beige reserved for corporate plants and storage facilities. The door is locked. I check my watch: 5:53 PM. Inside, a single light shines down on the front desk, where a thin young woman with straight blonde hair and a sunburnt face files her nails. She looks younger than me, just out of college. I knock hard on the door to get her attention. She looks up with a glower, gives me the once over, me all sweaty and bug-eyed and frantic. She raises her wrist and taps it, her way of saying look at the time, asshole.
I do my best miming back, emoting desperation, pleading great, great need. Begging with my eyes for her to exact mercy at my expense. It seems to work, 'cause she swings her legs out from under the desk, pulls her skirt down, slips her heels back on, and walks to the door. She unlocks it and sticks her head out.
"Can I help you?" Her voice is terse, waspish.
Out of breath, I gasp, "Yes. The man of my dreams is in there."
"Excuse me?" she responds, her glower intensifying.
"He's in there and I'm here to save him."
"Save him from what?"
I have to think this one over. "I don't know. Corporate hell. Clinical depression. A boring life. A boring, loveless life!"
If she glares any harder, the pimple on her forehead will pop. "Look, if you need to file a claim you have to mail it to the PO Box—"
"No, no, no, you don't understand! He's waiting for me! He wrote to me, he hid messages in the letters you guys sent. Love notes!"
Her frown disappears. All of a sudden, she seems to understand me. Maybe she knows? Maybe he's told her about me, told her to expect me? She sighs, shakes her head. Her eyes shift from understanding to sadness, pity.
"You mean Daphne?"
"Daphne?" I ask.
She pushes the door all the way open. "Come in." She stands back and allows me to step into the fluorescent glow of the entryway. She gestures for me to follow her past her desk, through a door behind it. On the other side, an impossibly cavernous room the length of a cathedral, filled wall to wall with cubicles. Brown and beige little boxes, each fixed with the same massive, early-aughts desk computers and landline phones, devoid of anything personal. The lights in the ceiling are half dark, giving the space a sleepy, after-hours feel. It's exactly as I pictured, yet nothing like it at all.
"This way," the woman says, and we continue along. We pass empty cubicle after empty cubicle until we're on the opposite side of the room, until the repetition makes me dizzy. As we approach the end of a row, the unmistakable sound of typing reaches my ears. Hard, fast typing. Fanatical typing, the kind special to someone crafting a Facebook diatribe. The blonde woman stops at the very last cubicle in the row. The soft glow of a lamp emanates from inside, the only warmth in the whole building. She pops her hip, places a hand there, and says, "Daphne, you've got another one."
I peer around the blonde woman's shoulder and into the cubicle. I witness someone who could only be Daphne. A round-backed woman buried under layer upon layer of pastel sweaters. A head of wild, curly black hair cropped short at the ears. Behind her, pinned above her desk, are several photos of different breeds of monkey. She looks up shyly from her computer, like she's been caught doing something naughty.
"I didn't catch your name," the blonde woman says to me.
"W-William," I mutter, unable to avoid looking into Daphne's eyes; desperate blue eyes, already begging for forgiveness.
"Daphne, this is William. William, Daphne. Daphne drafts all our unemployment benefit letters. I think she's the one you're looking for." And with that, she leaves us alone, but not before adding, "You have ten minutes."
"Hi," Daphne says, barely above a whisper, her voice soft and high-pitched, nervous.
"Hi," I say, my voice a dead, defeated croak. I try to keep the devastation I'm feeling out of my face. I don't want to hurt Daphne's feelings. I try for a smile instead. "I made it," I say, as if we both already see it as a joke.
"William Hernandez?" she asks. I nod.
"You came all the way from San Francisco?" she asks. I nod.
We share a moment of dreadful silence. The dull hum of the ceiling lights plays us a miserable tune. I decide to be honest with her.
"Can I be honest with you?" I ask.
"Of course."
"I was… I was sort of expecting a cute young guy."
She gives me an apologetic smile. "Yeah, well, I was expecting an older butch gal."
I can't help but snort. "But my name is William…"
She shrugs, "So?"
I want to laugh, I want to cry. But I do neither. I simply stare at Daphne in her dark corner of the world, liberally extolling words of love to the financially impaired of California, the most vulnerable of us. "How many people…?" I begin but can't finish.
"Oh, I don't know," Daphne says. "Thousands. You're only the third to visit, though."
I nod. One of three. I can live with that number. Maybe.
"Have any of them…" I continue, "Have any of them been…?"
"What I'd hoped for?" She finishes. "No. Not yet."
She looks down at her fingernails, painted hot pink with little orange swirls. I notice an open bag of Sour Patch Kids next to her computer. In the wire wastebasket at her feet, at least a dozen more, empty and crumbled. My heart, already teetering on the edge, shatters a little for Daphne. But whatever I'm feeling for her, there's not enough room alongside what I feel for me. I realize that I don't have enough money for both dinner and gas to get back to the city. As if on cue, my stomach gurgles a bit, laughing at my plight. I take a step back.
"Well, I should… get back on the road," I mumble. Daphne shoots out of her chair and places one of those colourful, clawed hands on my arm, stopping me. Her grip is firm but gentle.
"You drove all this way. The least I can do is buy you dinner." She grins, hopeful. "There's an Applebee's down the street. It's Happy Hour till seven. How's that sound?"
I think. Again, my stomach ripples, always listening. I grin back at her. "That sounds good, Daphne. That sounds good."
She holds out her hand, and I take it. We walk out of the office together, fingers tightly linked. As we pass the blonde, whose name I never bothered to ask for, Daphne leans in and whispers, "She doesn't know yet, but I'm quitting next month. Getting out of here for good. Heading down to Tucson and never looking back. And there's nothing she can do to stop me."
I frown. "Is she your boss?"
Daphne simply shrugs. We step out of the glass doors and are met with a rush of warm air, replacing the sterile chill from inside. The last vestiges of light paint the sky red, purple, and blue. The palm trees wave good evening to us, Daphne and me. As the doors are about to close behind us, I pull my hand from hers. "Just a second."
I go back inside. I march up to the blonde woman as she unwraps a piece of spearmint gum. She looks up as if she's never seen me before, as if I'm some new interloper planning to foil her attempts at solitude. She pops the gum into her mouth.
"Hey," I say. "Are you guys hiring?"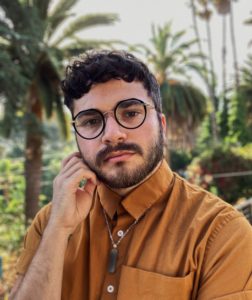 Johnny Alvarez is a queer Latinx writer and filmmaker originally from the Midwestern U.S. and currently living in Los Angeles. His writing has appeared in LEVEL Magazine, The Hunger Journal, and Quiet Lightning. You can follow him on Instagram and Twitter @jmigalv if you're really about it.